Transferring From Ivy Tech
PNW is the perfect place to complete your bachelor's degree after attending Ivy Tech. We're here to make that transition process as seamless for you as possible!
---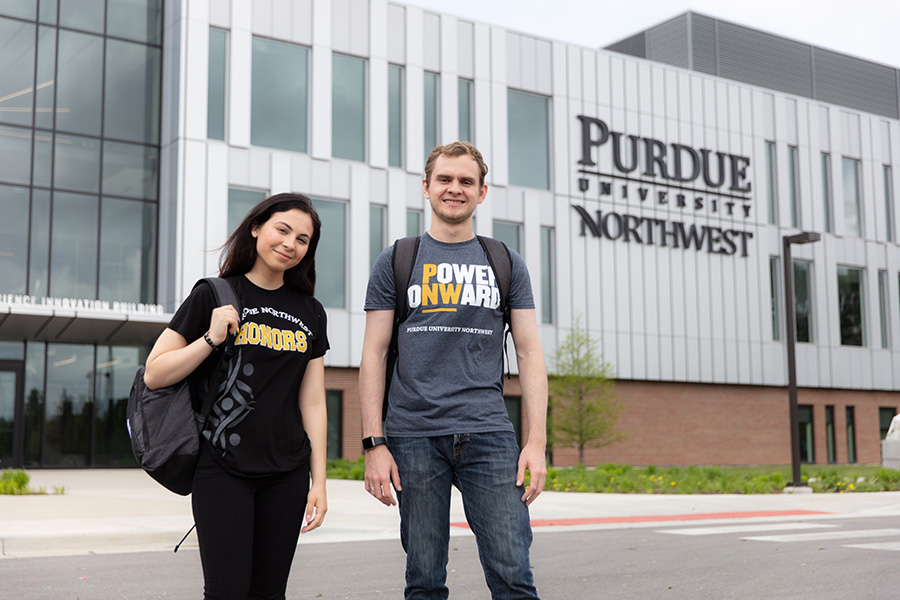 Special Ivy Tech Transfer Opportunities
Guaranteed Admission Agreements offer Ivy Tech Community College students, who complete an associate-level program, the opportunity to have guaranteed admission into certain programs at schools throughout the state of Indiana.
Guaranteed Admission Program Equivalencies
Guaranteed Admissions Requirements
Completion of an Associate's Degree of Science at Ivy Tech Community College in Accounting, Business Administration, Business Operations, Applications and Technology (BOAT), Hospitality Administration, Supply Chain Management, Engineering, Nursing, Construction Management, General Studies/Liberal Arts, Psychology, Education, Social Work and Criminal Justice.
A cumulative grade point average of 2.30 or higher in the specified AS degree at Ivy Tech Community College.
Once enrolled at Purdue University Northwest, students will be subject to all PNW academic policies.
Students who are admitted under this guaranteed admission initiative will be awarded no less than 60 semester hours of transfer credit toward their bachelor's degree. This provision does not apply if students change their major at the bachelor's level to something other than Accounting, Business Information Systems, Finance, Hospitality and Tourism Management, Human Resource Management, Management, Marketing, Civil Engineering, Computer Engineering, Electrical Engineering, Mechanical Engineering, Nursing, Construction Engineering and Management Technology, English, Spanish, History, Political Science, Philosophy, Liberal Studies, Psychology, Education, Social Work and Criminal Justice
Transfer courses do not count in a student's grade point average at Purdue University Northwest.
View The Ivy Tech Guaranteed Admissions FAQs
Students who complete an associate degree at Ivy Tech and then apply for admission into PNW in another program area not listed in this document are not covered by the guaranteed admission agreement but may be admitted on an individual basis.
In collaboration with state institutions in Indiana, the Indiana Commission for Higher Education (ICHE) has established the Transfer Single Articulation Pathway (TSAP) program so that students in selected majors may complete an associate's degree at an Indiana community college and transfer into a related field at a four-year public university in Indiana.
Ivy Tech/PNW Transfer Single Articulation Pathways
Ivy Tech and Purdue University Northwest have evaluated the following programs to maximize the transfer of credits from your Ivy Tech associate's degree, offering you a smooth path to completing your four-year degree!
For information and assistance on transfer admission, contact PNW Admissions at admissions@pnw.edu or (219) 989-2213. Apply online at www.pnw.edu/apply-now.
Additional Ivy Tech Transfer Resources
---
Transferring Credits
The PNW Transfer Equivalency System lets you see how your Ivy Tech coursework would transfer into your plan of study. This system allows you look up courses one by one to determine how they might transfer to PNW.
---
Dual Admission
Students in PNW's dual-admission program can begin their journey at Ivy Tech Community College, finish their four-year degree at PNW and enjoy the benefits of being a PNW student the entire time!
---
In Partnership With