Announcement of Interim VCAA/Provost
June 28, 2019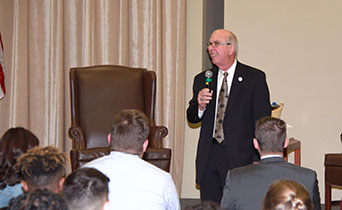 I am pleased to announce that Dr. Niaz Latif has agreed to serve as Interim Provost and Vice Chancellor for Academic Affairs beginning July 1, 2019.  Dr. Latif has played several important leadership roles at Purdue Northwest, most recently as the Dean of the College of Technology.  Niaz also served as the Interim Associate Vice Chancellor for Research and Graduate Studies.
Dr. Latif was awarded PNW's Outstanding Administrative Leader Award. He is the Executive Director of the Commercialization and Manufacturing Excellence Center (CMEC) at Purdue University Northwest.  Dr. Latif has also received several federal grants for workforce development, including grants from the US Department of Labor and the National Science Foundation.
Niaz was appointed Professor and Head of the Department of Industrial Technology at Purdue University in West Lafayette in 1999.  Dr. Latif's academic career began as an instructor of engineering at Louisiana State University, Eunice and then he served as an Assistant and Associate Professor at Northern Kentucky University.
Dr. Latif earned his Ph.D. from the University of Missouri, Columbia and earned two M.S. degrees from South Dakota State University, one in Engineering and one in Agricultural Engineering. He holds a B.Sc. in Mechanical Engineering from the University of Chittagong in Bangladesh.
I look forward to working with Niaz as we continue to move Purdue Northwest forward.  Please join me in congratulating him on this new role.