Approval of Final Safe Return to Campus Task Force Recommendations and Planning for Fall Semester 2020
July 24, 2020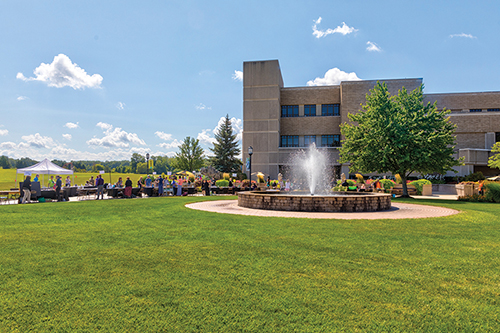 To: PNW Community
From: Thomas L. Keon, Chancellor, and the Senior Leadership Team
These past few months have been very challenging and we are all excited to return to campus, in person and virtually, for the Fall 2020 semester. We thank you for your perseverance, dedication, and hard work during the spring semester and throughout the summer.
The Safe Return to Campus Task Force has been working diligently these past few months and has assessed all aspects of the pandemic's impact to the higher education environment, and provided recommendations to the Senior Leadership Team guided by best practices and the Centers for Disease Control and Prevention.
These recommendations include new protocols and procedures focused on the health and safety of our entire Purdue University Northwest community. We want to thank the task force for all their work, especially the co-chairs, Dean Lawrence Hamer and Julie Wiejak.
Decisions made by the Senior Leadership Team, based upon the recommendations of the Task Force, include:
As previously announced, PNW plans to start the fall semester, as scheduled, on Aug. 24 and will have the usual breaks for Labor Day (Sept. 7), Fall Break (Oct. 12-13) and Thanksgiving Break (Nov. 25-28). Finals week is Dec. 14-19.
Updates to the course schedule are complete. Students who are registered for fall will receive an email directly from the Registrar's office next week.
Student-facing offices will resume in-person, on-campus hours beginning August 10.
All faculty, staff and students are required to complete a short learning module that will remind all of us of our collective responsibilities to help keep ourselves and our community healthy and safe. The training covers proper area sanitization practices, proper hand washing and how to safely wear a face covering. Faculty and staff who have not yet completed the training should complete it in Success Factors as soon as possible. Students will see the training appear in the Brightspace home page around July 27.
Face coverings are required on campus, which is a PNW protocol. Every campus member will receive two cloth, reusable face coverings from PNW.

Face coverings for faculty and staff have been distributed this week to unit managers. Your supervisor should be contacting you to provide your face covering.
Students will be provided two face coverings during New Student Orientation or the Welcome Week Pride Pick-Up events. If you do not receive your PNW reusable face coverings by the end of the first week of classes, please contact safereturn@pnw.edu.
In addition, disposable face coverings are available on campus.

Social distancing has become the regular and safest practice and PNW has adjusted public spaces to keep our community as safe as possible. We have repurposed some larger spaces on both campuses to be used as classrooms allowing for greater social distancing, including Alumni Hall in the Student Union and Library Building and the Great Hall in the Dworkin Center. Please follow signs regarding proper use of elevators, stairwells, doorways and hallway passing areas carefully, to maintain safe social distancing.
As an additional measure to protect health and safety, PNW will be adding a pre-screening application to the PNW mobile app or directly at this link. Using the PNW Daily Self Screen function via the PNW app on a smartphone, students, faculty, staff and visitors can pre-screen themselves for symptoms of COVID-19, and are asked to not come to campus if they have any symptom, even if mild. If you do not have the PNW mobile app on your phone, it is free to use and available for download.
Classrooms, dining areas, bathrooms, public spaces, and office areas will be regularly cleaned and disinfected. PNW has instituted COVID-19 cleaning and disinfecting protocols. All campus community members will be asked to take part in minimizing the risk of exposure and helping prevent the spread of disease. Disinfectant wipes will be provided in every classroom so that faculty members and students can wipe down their own spaces prior to use to help ensure the safest possible environment for everyone. Faculty and staff should regularly wipe down their personal work areas and frequently touched objects.
Housing has an extensive plan for keeping residents safe. Students who have rooms reserved in University Village for fall are receiving information about room assignments and move-in. We have a plan for quarantine and isolation of residential students should the need arise.
Hand sanitizer stations have been added throughout the campuses. Many water fountains have been turned off, although you will find some "bottle filler" stations operating.
The intercampus shuttle has been discontinued due to health and safety concerns.
On-campus camps and conferences have been canceled until 2021. Some exceptions for internal camps and conferences may be reviewed by the Senior Leadership Team.
Any PNW faculty or staff member who wishes to host guests on campus (those who are not employed by or attending PNW) should follow the Guest Policy.
Faculty and staff who will continue to work remotely may wish to use university equipment at home, with supervisor approval. A form is under development to check out university equipment and the link will be distributed as soon as available. Update: Access the University Property Loan Agreement
Any individual with questions, concerns or feedback about PNW's COVID-19 response is encouraged to use the Feedback Form on the website. The form can be submitted anonymously if desired. Questions or concerns also may be sent to safereturn@pnw.edu and we will be sure you receive a response.
Please continue to read your email and check the PNW Safe Return to Campus website regularly. As the pandemic continues, we will be monitoring local, state and national conditions and following public health guidelines. We will communicate any decisions that could impact campus operating status or courses.
As a campus community, it is all of our responsibility to keep ourselves and others safe.  Adhering to these protocols and procedures will help ensure that we have a successful and productive year. Again, thank you for your tireless efforts as we Power Onward!
Thomas L. Keon, Chancellor, and the Senior Leadership Team