Bookstore
Get ready for classes with textbooks, backpacks, notebooks and electronic devices and embrace your PNW Pride with fan gear like t-shirts, hats, hoodies and more.
The Purdue University Northwest Bookstore is the go-to location for PNW students searching for the school supplies, apparel, and course materials they need to start their school year right.
Drop into our physical locations or shop online today via the links below.
Date: August 14, 2020
Late this summer Follett, the operator of our campus bookstores, notified PNW of the need to reduce expenses by adjusting the hours of operation on the Hammond Campus and closing the store on the Westville Campus.
PNW negotiated for a compromise solution, but the COVID-19 pandemic significantly reduced revenue during a time when in-store sales of textbooks and other instruction material have already been downward trending throughout higher education for several years.  Follett determined the changes were both necessary and unavoidable.
Services Available to Students
To ensure students have access to required course materials, Follett has agreed to offer limited dates at the start of the fall semester when orders may be picked up at the Westville bookstore.
Books can be ordered online at Follett's campus store website or in person at the Hammond campus bookstore.  No books or supplies will be available for purchase at the Westville bookstore.
After September 2 and for the remainder of the Fall 2020 semester, you can choose to have your order delivered to your home or shipped to the Westville campus where it will be available for pickup at Westville Print Services located at LSF 001 C on the Westville campus Monday through Friday from 9 a.m. to 12 p.m. and 1 p.m. to 3 p.m.  Please note you will avoid shipping costs if you choose to pick up your order at Westville Print Services.
Current Hammond campus hours may be found here.
Follett will, of course, continue to offer customer service, textbooks, student supplies and spirit wear on its campus store website. PNW Athletics also offers athletic and various Pride logo apparel at their online store which may be found here.
Please direct any questions to Auxiliary Services at auxiliaryservices@pnw.edu.
Stephen R. Turner
Vice Chancellor – Finance and Administration
Updated Hours For Fall 2020
Effectively immediately, the Hammond Campus bookstore will be open the following hours. The Westville store will remain closed as noted in the Changes to Bookstore Hours and Operations.
Sun: Closed
Mon: 9 a.m. – 3 p.m.
Tue: 9 a.m. – 3 p.m.
Wed: 9 a.m. – 3 p.m.
Thu: 9 a.m. – 3 p.m.
Fri: Closed
Sat: Closed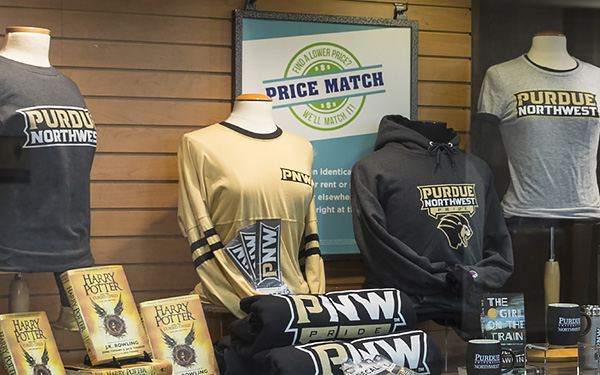 Hammond Campus Bookstore
Student Union & Library,
Room 110
(219) 844-1081