Incentive-Based Budget Model
As part of Purdue University Northwest's (PNW) strategic reassessment initiative, we are creating an incentive-based budget model to best support our core mission and strategic priorities. This budget model is an effective tool for addressing our current challenges and will help secure the university's long-term financial health.
Updates:
New Approach to Budgeting
PNW's current budget process was constructed in a different era and is not sustainable. We currently allocate resources on the basis of the previous year's budget, plus or minus a percentage. This approach is predictable but makes it difficult for us to adapt to changing circumstances or fund strategic priorities.
An incentive-based budget model provides individual units with incentives to achieve positive financial performance. Each unit has greater control over the revenue they generate and the costs they incur. Ultimately, this budget model allocates resources to activities that advance the University's long-term strategic vision.
Advance the university's mission through a greater alignment between financial resources and university priorities.
Enhance the student learning experience.
Feature incentives that promote entrepreneurship, innovation and collaboration within and across disciplines.
Provide a consistent and fair methodology for revenue and cost allocation that is simple and easy to understand.
Promote authority, responsibility, and accountability, both locally and university-wide.
Provide transparency, clarity and predictability.
Links resources with strategic priorities.
Provides incentives to grow revenues and reduce costs.
Aligns authority and accountability at the unit level.
Heightened financial awareness.
Greater financial flexibility and improved responsiveness to change.
Model Centers
Accountability Centers generate revenue. These centers are responsible for direct costs and their share of Service Center's cost.
College of Business
College of Engineering and Sciences
College of Humanities, Education, and Social Sciences
College of Nursing
College of Technology
With Self-Supporting Centers, all costs, both direct and indirect, are covered by revenues generated by a program, product or service.
Gabis Arboretum
Housing
Dining Services
Bookstore
Printing Services
Recreation and Fitness Center
Sinai Forum
Water Institute
Student programs (student fees)
Small Business Development Center
Commercialization & Manufacturing Excellence Center
Center for Innovation through Visualization & Simulation
Energy Efficiency & Reliability Center
Wellness
Center for Cybersecurity
Parking and Transportation Services
Continuing Education (Full cost recovery)
Online Programs (Full cost recovery)
Service Centers are non-revenue generating units that provide programs, products or services that support the primary mission of the university.
Administrative Services

Chancellor's Administration units
Institutional Advancement units
Finance and Administration units
Information Services units

Academic Services

Academic Affairs Administration units
Honor College
Graduate School
Office of Research
University Libraries

Student Services

Student Affairs and Enrollment Management units
Athletics
Timeline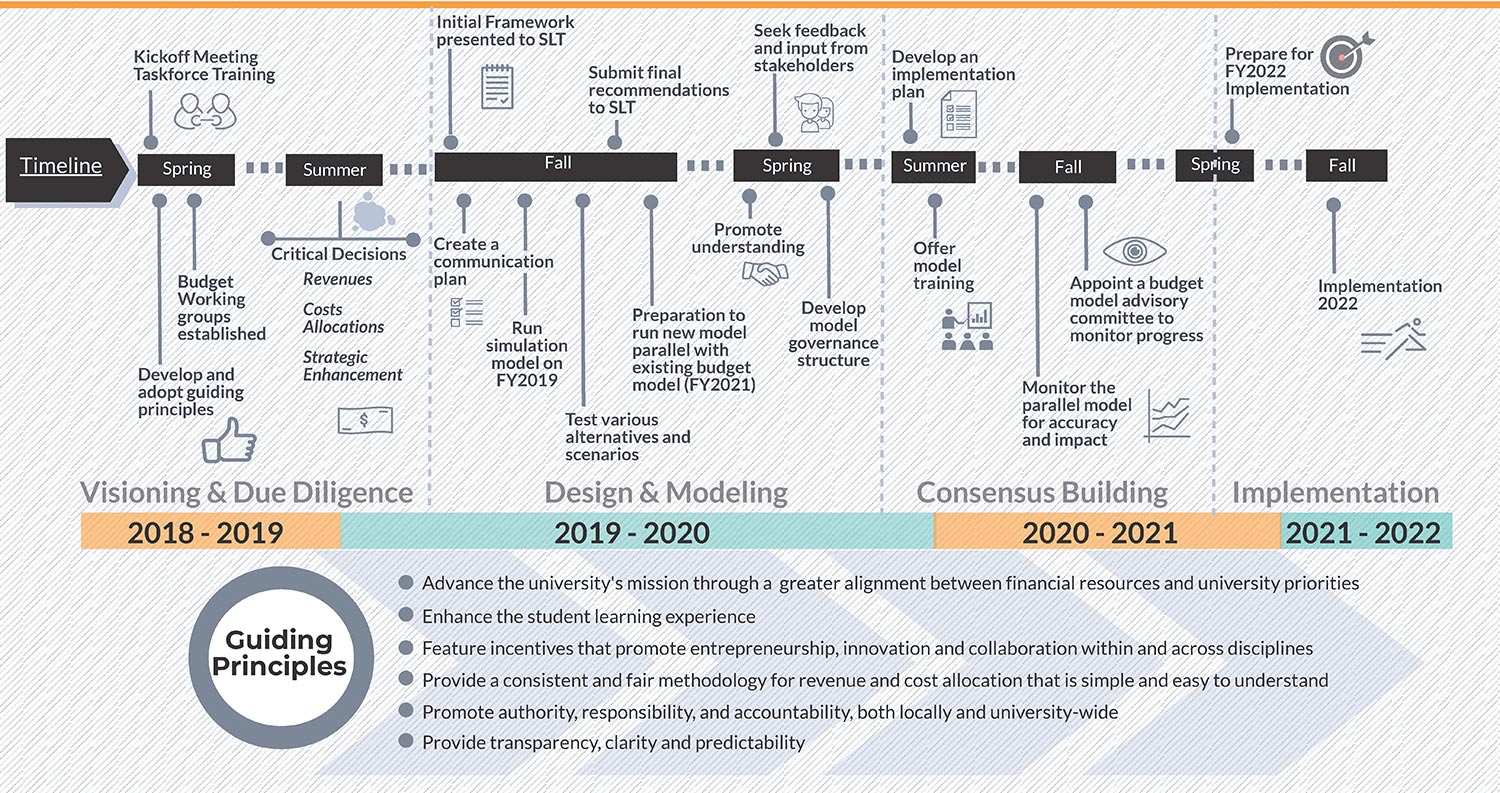 Kickoff meeting: Taskforce training
Develop and adopt guiding principles
Budget working group established
Initial Framework presented to Senior Leadership Team
Create a communication plan
Run simulation model on FY2019
Test various alternatives and scenarios
Submit final recommendations to Senior Leadership Team
Preparation to run the new model parallel with the existing budget model (FY2021)
Promote understanding
Seek feedback and input from stakeholders
Develop model governance structure
Develop an implementation plan
Offer model training
Monitor the parallel model for accuracy and impact
Appoint a budget model advisory committee to monitor progress
Prepare for FY2022 implementation
Task Force
Amy Hemingway, Development Operations Manager Institutional Advancement
Anthony Elmendorf, Professor Mathematics, Mathematics, Statistics & Computer Science
Beth A. Vottero, Assistant Professor, College of Nursing
Dawn Pollock, APSAC Representative, Administrative/Professional Staff Advisory Committee
Elaine Carey, Dean, College of Humanities, Education & Social Sciences
Elizabeth Depew, Director, Managerial Accounting
Geoffrey Schultz, Professor Education, School of Education and Counseling
Jonathan Swarts, Associate Vice Chancellor, Academic Affairs
Kenneth Holford, Vice Chancellor, Academic Affairs and Provost
Laurie Brookhart, Directot of Financial Accounting, Accounting and Budget Services
Lisa Hopp, Dean, College of Nursing
Maja Marjanovic, Director, Research and Sponsored Programs
Michael Lynn, Interim Dean, Honors College
Mohammad Zahraee, Associate Dean, College of Technology
Niaz Latif, Dean, College of Technology & Interim Dean, College of Engineering and Sciences
Paul McGrath, Department Head/Professor, Political Science, Econ & World Languages & Cultures
Piparnee Stompor, Clinical Instructor, White Lodging School, Hosp & Tour Mgmt
Rick Costello, Director, Athletics
Rose A. Haite, Chair, Clerical/Service Staff Advisory Committee
Russ Mulligan, Clinical Assistant Professor, College of Business
Scott Iverson, Executive Director, Housing and Residential Education
Stephen Turner, Vice Chancellor, Finance and Administration
Thomas L. Keon, Chancellor, Chancellor
Timothy Winders, Vice Chancellor, Information Services
Yohulda Mosely, Vice Chancellor, Enrollment Management & Student Affairs