Career Resources for International Students
Purdue University Northwest academic programs draw exceptional graduate and undergraduate students from over 40 countries worldwide to pursue a diverse array of degrees and career aspirations.
Benefits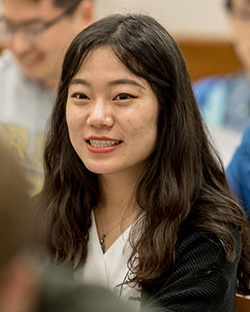 While many international students desire to find employment in the United States, others plan to return to their home country or work in another country of interest.
As an international student, you will likely possess qualities that top employers seek:
A global perspective based on a variety of life and educational experiences.
Multilingual and cross-cultural communication skills that are critical for companies who compete in a global economy.
The ability to be flexible and adaptable to change, and handling new situations.
Challenges
As an international student, you will face special challenges in getting internships and jobs in the U.S. Complex and changing visa regulations, seemingly unclear information on what employers hire international students, and cultural differences that will require additional time and effort from you. It is important that you allow additional time to prepare yourself for the internship and job search process, but most importantly to understand your immigration status and employment practices that may impact your situation.
The Career Center provides career counseling and advising services to actively enrolled, degree seeking international students and alumni of Purdue UniversityNorthwest.
Job Search Considerations
While your internship or job search in the U.S. will have many common factors as your American peers, you as an international student, should consider a few additional strategies. Identifying U.S. companies doing business in your home country, international organizations or those with an international focus, and organizations that hire international students.
Your international background is just one part of your identity. There may be other aspects of your uniqueness that you should consider when you think about your own career path and career plan. You might find it helpful to reflect on the following questions on your own, a faculty member, trusted friend, or a staff member in the Career Center:
Is your academic experience in the U.S. what you expected? How is it different? What has been unique about your academic experience?
How is your internship or job search in the U.S. different from that of your home country? Is it what you expected?
What types of experiences academically have you enjoyed the most? Has there been anything you have learned that you believe will set you apart from other job seekers?
Most importantly, living in a new country and in a new context can be stressful, how are you taking care of yourself?
Working in the United States
International students can only work in the United States after receiving proper authorization and with certain restrictions. Working in the U.S. without proper authorization is a serious violation of immigration policy and can lead to deportation.
If you are considering any type of employment in the U.S. please consult with the a member of the Immigration Team in the International Programs office in CLO.
Before working in the U.S., all students must first obtain U. S. Social Security number for employment and taxation purposes. Check with the Immigration Team to learn how to apply for a Social Security Card.
Immigration Status is Your Responsibility
Be aware of deadlines and expiration dates.
Know the rules/regulations of YOUR legal status
Provide all required documentation regarding your eligibility to work in the U. S. to the employer
Track the process of your applications
DO NOT take advice from non-Immigration Team faculty and staff about your immigration status
Visa Types
Below is basic information regarding F-1, J-1 and H-1B visas. It is recommended that you stay in contact with the Immigration Team to ensure you do not put your visa status in jeopardy.
Practical Training (PT), which is employment for one academic year related to academic field of study, is available to F-1 students who have completed one full-time academic year. There are three types of PT. Details and guidelines for each can be found by visiting http://www.iss.purdue.edu/Current/F1/Employment.cfm
Curricular Practical Training (CPT)
Optional Practical Training (OPT)
OPT S.T.E.M. Extension
Academic Training (AT) is available to J-1 Students and MUST be related to the curricular area of study. AT is available for a total of 18 months and J-1 students who obtain a Ph.D. may obtain an additional 18 months of AT employment. Details and guidelines for AT can be found by visiting http://www.iss.purdue.edu/Current/J1/Employment.cfm
F-1 or J-1 degree-holders (B.S., M.S. or Ph.D.) may be eligible for continued employment in H-1B status. H-1B applications are the sponsoring employer's responsibility. Petitions for H-1B employment may be requested for up to 6 years. Students can not apply on their own behalf. Details and guidelines for H-1B employment can be found by visiting https://www.purdue.edu/ippu/iss/scholar/immigration/h1b/index.html
The anxiety of being out-of-work is a substantial encumbrance. But along with the pressure of a job interview with American organizations, international students struggle with their visa status.
Only apply to positions that are applicable to your visa status: It is imperative that you don't spend time pursuing American organizations and government agencies that exclusively hire United States citizens.
Extensively equip yourself with details of your visa status before the interview: Be informed about all the particulars concerning your work eligibility in the United States.
Respond to every question concerning your visa status in a direct, clear and assured manner: Any hesitance or extra elaboration might distract the employer from the true purpose of the interview, which is to focus on your skills and qualifications. The employer may unnecessarily contemplate the decision to hire you.
Introducing your visa status to recruiters is entirely up to you: Discussing your visa status with employers is not a requirement. However, if the employer addresses any questions regarding your work eligibility during the interview, answer the questions in an explicit and concise manner.
Online Resources
DOL Public Disclosure– the Office of Foreign Labor Certification (OFLC) generates program data that is essential both for internal assessment of program effectiveness and for providing the Department's external stakeholders with useful information about the immigration programs administered by OFLC.
E-Verify Employer Search- E-Verify is an Internet-based system that allows businesses to determine the eligibility of their employees to work in the United States