Careers in Practice
The second part of your journey involves building connections. Find out where you can put skills into practice that employers need through networking and real-world experiences.
You Will…
Feel confident approaching employers regarding your skills and experiences. Learn strategies to effectively connect with industry professionals.
Identify and select internships that align with your VIPS (values, interests, personality, and skills).
Build a professional digital footprint by leveraging social media and e-portfolios.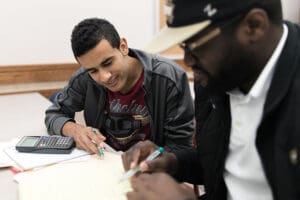 Start attending career events on campus or that are open to PNW Students/Alumni. Utilize the Online Career Center to practice your:
Elevator Pitch – Introduce yourself to recruiters and industry professionals.
STAR Method – Responding to interview questions.
Before, during, and after the fair.
Log in to your Handshake profile to register for events.
Students that have had an internship (clinical experience, project-based learning, etc.) are more likely to:
Find a full-time job faster (NACE, 2016).
Receive a higher salary than their non-internship peers (NACE, 2016).
Apply and test the knowledge you've learned in the classroom while growing your professional network.
National Association of Colleges and Employers (March 2016). Paid internships/co-ops see greater offer rates and salary offers than their unpaid classmates. Retrieved from: http://www.naceweb.org/s03232016/paid-unpaid-interns-offer-rates-salary-offers.aspx
Identify and Select an Internship
The Online Career Center is your hub for understanding the ins and outs of an internship and why they are important. Learn best practices to search for, secure, and have a successful internship experience.
Handshake is an online platform where employers hire early career talent, post jobs/internships/co-ops, and career opportunities.
LinkedIn & Social Media
There are plenty of resources in the Online Career Center that will assist in making an effective professional social media presence for your job search and your career connections. 
E-Portfolio
Create an electronic portfolio or website with platforms such as Wix, Weebly, or Google Sites. Include documents such as:
Samples of final papers/exams/projects/research
Presentations — either videos or PowerPoints
Past performance evaluations
Photos (just a few) showing you interacting at work sites, volunteering, service-learning projects, or study abroad experiences
Writing and maintaining a blog or social media webpage with your interests to help you develop and enhance your writing skills
Here are your takeaways:
Attend a Career Fair
Attend an informational session or career event

E-portfolio or LinkedIn created/reviewed