Handshake
Handshake is a cutting-edge job posting system that allows you to take advantage of Purdue University Northwest's reputation and vast network of industry connections. This innovative platform provides you with advanced online tools that are available on all devices.
Student/Alumni Login (Handshake)
PLEASE NOTE: Incoming Freshman, Graduate Students or Transfer Students do not have access to Handshake until on or about the first day of the first term you are enrolled. If you are seeking on campus student employment, including graduate assistantships, you will need to create a profile on the university career site, located here. Please do not request access to the Handshake network from the main site, as your request will be declined.
Handshake gives its users access to:
100% of the Fortune 500 companies
Relevant feed of job and internship opportunities, including on campus employment
News feeds containing the latest information from the Career Center and favorite employers you follow
Resources that specifically match your interests
Appointment scheduling with select Career Center staff
Valuable events such as career fairs and on campus interviews
Actively enrolled, degree seeking students already have an account in the Handshake system, you just need to activate it. You can do this by:
Click on the blue "Purdue University Northwest Student Login" button
Login with your PNW username and password
After you log in to your account, you will be asked to complete a personal profile. You may then upload your resume and start searching for jobs and internships. Please keep in mind, employers (and there are a ton of them) will be able to search student profiles, so please keep your profile, and resume, up to date.
Recent graduates may continue to use their Purdue Career Account Credentials (i.e. your PNW username and BoilerKey credentials) up to three semesters after graduation.
If you had an active account, but do not use BoilerKey, you must click "Login using Email and Password," enter your email address and click "Forgot Password".
Access to the career development platform that hosts jobs and internships from our employment partners is available to alumni of Purdue University Northwest. Graduates of the Westville Campus and the Hammond campus prior to the fall 2016 semester must have their alumni status verified. Please complete this brief form so we may re-activate your account.
The Handshake network provides a modern college recruiting platform that enables you to:
Post jobs and internships that attract highly skilled Purdue students and alumni at no cost.
Manage all of your recruitment activities with Purdue Northwest on any device of your preference, including updating job postings, view applications, and more all while on the go!
Ask us about premium features like searching for students and in app-messaging
Additional Handshake Resources for Employers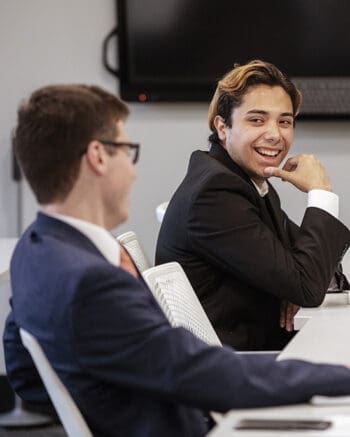 Explore Job Listings
Explore job opportunities, internships and more, curated by Handshake and PNW's Career Center!
---
See Job Listings