Book Clubs
The Center for Faculty Excellence is excited to offer two Book Clubs during Spring 2022.
Sign up deadline:  January 21, 2022
Mindset: The New Psychology of Success, How we can learn to fulfill our potential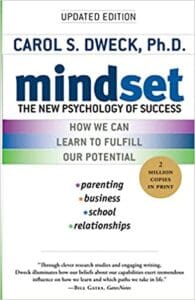 Book Author: Carol S. Dweck, Ph.D.
Book Description (Excerpted from Amazon):After decades of research, world-renowned Stanford University psychologist Carol S. Dweck, Ph.D., discovered a simple but groundbreaking idea: the power of mindset. In this brilliant book, she shows how success in school, work, sports, the arts, and almost every area of human endeavor can be dramatically influenced by how we think about our talents and abilities. People with a fixed mindset—those who believe that abilities are fixed—are less likely to flourish than those with a growth mindset—those who believe that abilities can be developed. Mindset reveals how great parents, teachers, managers, and athletes can put this idea to use to foster outstanding accomplishment.
In this edition, Dweck offers new insights into her now famous and broadly embraced concept. She introduces a phenomenon she calls false growth mindset and guides people toward adopting a deeper, truer growth mindset. She also expands the mindset concept beyond the individual, applying it to the cultures of groups and organizations. With the right mindset, you can motivate those you lead, teach, and love—to transform their lives and your own.
Faculty & Staff Book Club Meeting Dates
Tuesday, February 22 from 2 pm to 3:30 pm, virtual via Zoom
Tuesday, March 29 from 2 pm to 3:30 pm, virtual via Zoom
Tuesday, April 19 from 2 pm to 3:30 pm, virtual via Zoom
Teach Students How to Learn: Strategies You Can Incorporate Into Any Course to Improve Student Metacognition, Study Skills and Motivation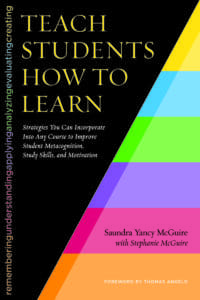 Book Author: Saundra Yancy McGuire
Book Description (Excerpted from Amazon):"Teachers need to learn as much as their students. In a masterly and spirited exposition, spangled with wit and exhortation, rife with pragmatic strategies, Saundra McGuire teaches teachers how to awake in their students the powers dormant in them. Be aware, and you will learn!"–Roald Hoffmann, 1981 Nobel Laureate in Chemistry
For over a decade Saundra McGuire has been acclaimed for her presentations and workshops on metacognition and student learning because the tools and strategies she shares have enabled faculty to facilitate dramatic improvements in student learning and success. This book encapsulates the model and ideas she has developed in the past fifteen years, ideas that are being adopted by an increasing number of faculty with considerable effect.
Faculty & Staff Book Club Meeting Dates
Wednesday, February 23 from 11:00 am to 12:30 pm, virtual via Zoom
Wednesday, March 30 from 11:00 am to 12:30 pm, virtual via Zoom
Wednesday, April 20 from 11:00 am to 12:30 pm, virtual via Zoom
Books Read in Previous Book Clubs