Book Clubs
Register to participate in one of two Book Clubs being offered in Spring 2023.
Last Day to Register: January 17th
The Power of Moments: Why Certain Experiences Have Extraordinary Impact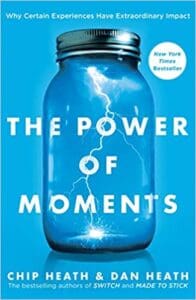 Book Club Facilitator: Emily Hixon, Center for Faculty Excellence
Book Authors: Chip Heath and Dan Heath
Book Description (Excerpted from Amazon):While human lives are endlessly variable, our most memorable positive moments are dominated by four elements: elevation, insight, pride, and connection. If we embrace these elements, we can conjure more moments that matter. What if a teacher could design a lesson that he knew his students would remember twenty years later? What if a manager knew how to create an experience that would delight customers? What if you had a better sense of how to create memories that matter for your children? Many of the defining moments in our lives are the result of accident or luck—but why would we leave our most meaningful, memorable moments to chance when we can create them? The Power of Moments shows us how to be the author of richer experiences.
Book Club Meeting Dates
Wednesday, February 22, 12:30-2:00 pm (virtual via Zoom)
Wednesday, March 22, 12:30-2:00 pm(virtual via Zoom)
Wednesday, April 19, 12:30-2:00 pm(virtual via Zoom)
Make it Stick: The Science of Successful Learning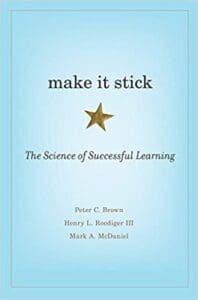 Book Club Facilitators: Janet Garwood and Kelly Herbert, College of Nursing
Book Authors: Peter C. Brown, Henry L. Roediger III, & Mark A. McDaniel
Book Description (Excerpted from Amazon): To most of us, learning something "the hard way" implies wasted time and effort. Good teaching, we believe, should be creatively tailored to the different learning styles of students and should use strategies that make learning easier. Make It Stick turns fashionable ideas like these on their head. Drawing on recent discoveries in cognitive psychology and other disciplines, the authors offer concrete techniques for becoming more productive learners.
Book Club Meeting Dates
Monday, February 13, 11:00am – 12:00pm (Hammond-NILS 240, Westville-LSF 056, or virtual) (Read Chapters 1-3)
March 20, 11:00am – 12:00pm (Hammond-NILS 240, Westville-LSF 056, or virtual) (Read Chapters 4-6)
Monday, April 17, 11:00am – 12:00pm (Hammond-NILS 240, Westville-LSF 056, or virtual) (Read Chapters 7 and 8)
Books Read in Previous Book Clubs
UNgrading: Why Rating Students Undermines Learning (and What to Do Instead), edited by Susan D. Blum (Fall 2022)
How Humans Learn: The Science and Stories behind Effective College Teaching (Teaching and Learning in Higher Education) by Joshua R. Eyler (Summer 2022)
College Students Sense of Belonging – A Key to Educational Success for All Students by Terrell L. Strayhorn (Summer 2022)
Teach Students How to Learn: Strategies You Can Incorporate Into Any Course to Improve Student Metacognition, Study Skills and Motivation by Saundra Yancy McGuire (Spring 2022)
Mindset: The New Psychology of Success, How we can learn to fulfill our potential by Carol S. Dweck, Ph.D. (Spring 2022)
Whistling Vivaldi: How Stereotypes Affect Us and What We Can Do by Claude M. Steele (Fall 2021)
Keeping Us Engaged: Student Perspectives (and Research-Based Strategies) on What Works and Why by Christine Harrington and 50 college students (Fall 2021)
Becoming a Student-Ready College: A New Culture of Leadership for Student Success by Tia Brown McNair, et al. (Summer 2021)
Bandwidth Recovery: Helping Students Reclaim Cognitive Resources Lost to Poverty, Racism, and Social Marginalization by Cia Verschelden (Spring 2021)
Small Teaching Online: Applying Learning Science in Online Classes by Flower Darby and James M. Lang (Fall 2020, Spring 2021)
The Sun Does Shine: How I Found Life, Freedom and Justice by Anthony Ray Hinton (Fall 2020)
Small Teaching: Everyday Lessons from the Science of Learning by James M. Lang (Spring 2020)
The Disappearing Spoon: And Other True Tales of Madness, Love and the History of the World from the Periodic Table of the Elements by Sam Kean (Spring 2020)
What the Best College Teachers Do by Ken Bain (Spring & Summer 2019)
Generation Z Goes to College by Corey Seemiller and Meghan Grace (Fall 2019)