Book Clubs
The Center for Faculty Excellence is excited to offer two Book Clubs during Summer 2022.
Registration for Summer Book Clubs is closed.
College Students' Sense of Belonging: A Key to Educational Success for All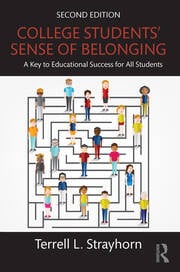 Book Author: Terrell L. Strayhorn
Book Description (Excerpted from Amazon): This book explores how belonging differs based on students' social identities, such as race, gender, sexual orientation, or the conditions they encounter on campus. Belonging―with peers, in the classroom, or on campus―is a critical dimension of success at college. It can affect a student's degree of academic adjustment, achievement, aspirations, or even whether a student stays in school. The 2nd Edition of College Students' Sense of Belonging explores student sub-populations and campus environments, offering readers updated information about sense of belonging, how it develops for students, and a conceptual model for helping students belong and thrive. Underpinned by theory and research and offering practical guidelines for improving educational environments and policies, this book is an important resource for higher education and student affairs professionals, scholars, and graduate students interested in students' success.
Faculty & Staff Book Club Meeting Dates
Monday, June 13, 12-1:30 pm, virtual via Zoom
Monday, July 11, 12-1:30 pm, virtual via Zoom
Monday, August 8, 12-1:30 pm, virtual via Zoom
How Humans Learn: The Science and Stories behind Effective College Teaching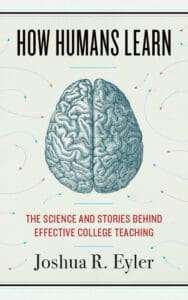 Book Author: Joshua R. Eyler
Book Description (Excerpted from Amazon):"
Even on good days, teaching is a challenging profession. One way to make the job of college instructors easier, however, is to know more about the ways students learn. How Humans Learn aims to do just that by peering behind the curtain and surveying research in fields as diverse as developmental psychology, anthropology, and cognitive neuroscience for insight into the science behind learning.
The result is a story that ranges from investigations of the evolutionary record to studies of infants discovering the world for the first time, and from a look into how our brains respond to fear to a reckoning with the importance of gestures and language. Joshua R. Eyler identifies five broad themes running through recent scientific inquiry—curiosity, sociality, emotion, authenticity, and failure—devoting a chapter to each and providing practical takeaways for busy teachers. He also interviews and observes college instructors across the country, placing theoretical insight in dialogue with classroom experience.
Faculty Book Club Meeting Dates
Tuesday, June 14, 11am-12:30 pm, virtual via Zoom
Tuesday, July 12, 11am-12:30 pm, virtual via Zoom
Tuesday, August 9, 11am-12:30 pm, virtual via Zoom
Books Read in Previous Book Clubs