CHESS Students Win Awards at Days of Discovery
May 14, 2020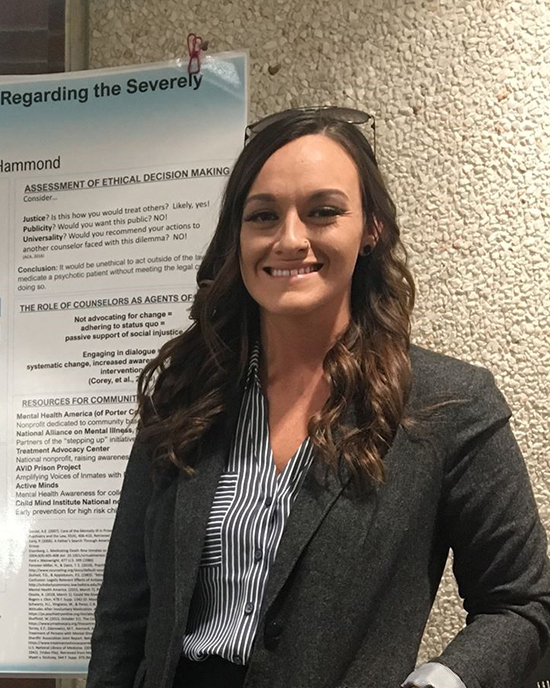 Three CHESS students received awards during the annual Days of Discovery research conference held at Purdue University Northwest in early April.
Anna Maria Gianni, a graduate student in communication, won second place for the oral presentation of her project "What's The 'Dirt': Life and Communication in a Modern Collectivist Farm Culture."  Her faculty mentor was Catherine Gillotti, associate professor of communication.
Gianni drew inspiration from viewing a documentary by Erin Okomoto Protsman, a continuing lecturer in communication, about her family's experience of being detained in concentration camps for Japanese-Americans during World War II.
"After pondering her work, I thought, 'Ya know, my family has a pretty unique story, too," Gianni said.
She followed this experience by taking a course in autoethnography taught by Theresa Carilli, professor emerita of communication.
Angelicah Shaver, graduate student in the School of Education and Counseling, won third place for a poster presentation of her project, "Exploring Positive Ethics: Within the Context of Legislation Regarding the Severely Mentally Ill." Her faculty mentor was Lisa Hollingsworth, associate professor of education.
She hopes her research can motivate counselors to work as advocates for the marginalized individuals who have been "carelessly shuffled" through the prison system.
"The goal of this project is to raise awareness of the human barriers these individuals face while exploring alternative treatment methods that promote the journey toward healing their brain and supporting their return to society," she said.
After graduation, she hopes to work as a consultant in forensic psychology for the prison system.
Finally, psychology major Alicia Settles won second place in the undergraduate competition for her oral presentation, "How To Train Your Goldfish." Her faculty mentor was Robert Hallock, assistant professor of psychology.