CHESS Undergrads Win Awards in Honors College
May 12, 2020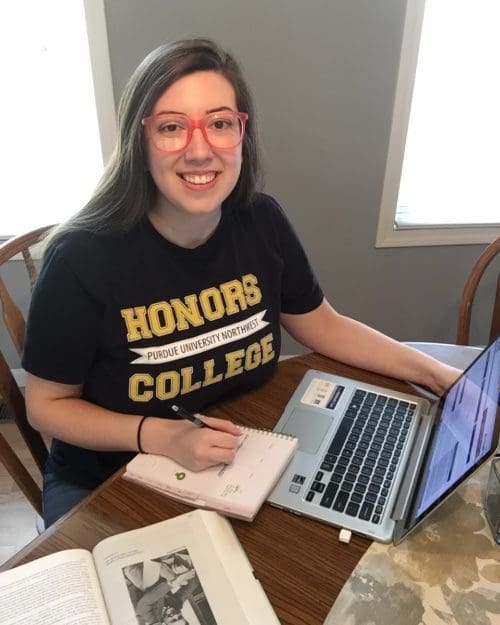 Two CHESS undergraduate students won major awards in the Honors College in April.
Elizabeth Searle, a communication major and student president in the college for the 2019-2020 academic year, received the Hall of Fame Award, and Kayla Vasilko, an English writing major, received the Outstanding Leader Award.
Deborah Bachmann, Honors program coordinator, said she is impressed by Searle's hard work and determination.
"Her ability to communicate to her peers in a professional, calm demeanor is unparalleled," Bachmann said. "This award acknowledges that Elizabeth represents all that is good at our university."
Searle has spent a lot of her time in the Honors College developing mentoring activities for younger students.
"My goal was to educate the freshman students early on about what they CAN do," she said. "If they don't know about the opportunities, they can't take advantage of them."
In addition, Searle has been involved in budgeting for Honors College activities and helping secure improved space for college activities in LSF 014 on the Westville campus. She also presented her research at the National Collegiate Honors Council conferences for the past three years.
Vasilko served as vice president of the Westville Honors College Student Leadership. She worked to coordinate a series of events in the college and was
instrumental in securing a Purdue University Northwest Undergraduate Research Grant Award, which will help the students write abstracts and present their research at conferences.
"There have been a lot of remarkable experiences that I have been a part of in Honors this year," Vasilko said. "I believe it is the English writing degree that I am pursuing in CHESS that has enabled me to take on all of these diverse projects, for the degree itself is so versatile!"
Bachmann said the award recognizes Vasilko's positive leadership skills. "Kayla has made a significant impact on the Honors College through her leadership both in and out of the classroom," Bachmann said."Kayla always supports the mission and vision of the Honors College and personally makes me feel that I have someone I can count on."