Congressman Pete Visclosky Returns to CIVS
February 14, 2020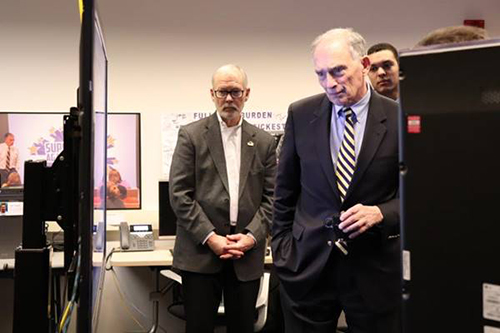 On February 14, 2020, Congressman Pete Visclosky revisited CIVS at PNW for the update of CIVS and the Steel Manufacturing Simulation and Visualization Consortium (SMSVC).
"My experience today was very positive. What I appreciate is that Purdue Northwest took an investment made over a decade ago and has built on it – Not only to educate people in various fields of technology, but also to help the industry in Northwest Indiana, those in services and other types of professions be as efficient and as productive as they can be. Emphasis also on worker safety. I hope there's a growing emphasis on industry's part by looking at environmental standards and controls, because I think the center here would have a lot to offer to the domestic steel industry in Northwest Indiana."  Congressman Pete Visclosky said.
Thank you to Congressman Visclosky for his support to CIVS and SMSVC.  Your insightful thoughts on how we can make positive impacts on Northwest Indiana are always appreciated.