CIVS Student Researchers at TMS 2020
April 1, 2020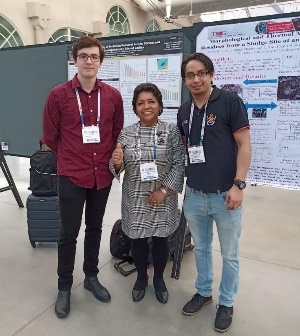 CIVS Graduate Research Students John Resa and Edwin Mosquera attended TMS 2020 in San Diego in February.
John presented his research paper on "Analysis of Solidification and Thermal-Mechanical Behaviors in Primary Cooling". Edwin presented his research paper on "Integrating Fluid Simulation with Virtual Die Casting Machine for Industry 4.0 and Operator Training." John and Edwin also presented two posters on Numerical Simulations of Electric Arc Furnace and Gas Stirred Ladles. The students networked with professionals from different areas such as Prof. Brian Thomas in Colorado School of Mines and Dr. Pavel Lopez from Sweden.
TMS 2020 is the 149th Annual Meeting & Exhibition.  Attendees were from 70 nations at the meeting that the global minerals, metals, and materials community calls home.