NSF RET Teachers Visit Cleveland-Cliffs Steelmaking Plant
June 23, 2021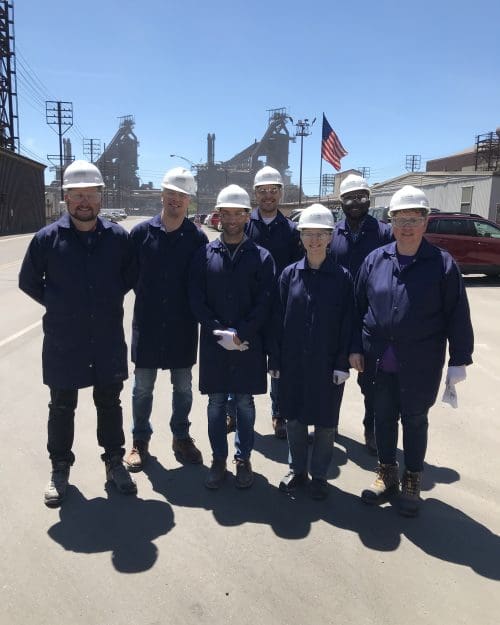 On June 16th and June 23rd, participants from the National Science Foundation (NSF) Research Experience for Teachers (RET) program and their mentors from PNW visited Burns Harbor, which is a fully integrated steelmaking plant of CLEVELAND-CLIFFS Inc. Burns Harbor is located on Lake Michigan in northwest Indiana, 50 miles southeast of Chicago. The location allows for prime shipping access to the Port of Indiana, as well as excellent highway and railroad transport. The plant operates two blast furnaces and is capable of producing five million tons of raw steel annually. Burns Harbor primarily serves the automotive industry.
During the tour, Larry Fabina, Manager of Continuous Improvement, warmly welcomed all the teachers and gave them a brief introduction of Burns Harbor and safety guidelines. Then, Larry gave them a driving tour coke plant, orefield, docks, blast furnaces, and power plant. In the afternoon, the teachers visited Iron Producing, Steelmaking Casters (Crane operation), Hot Mill (Furnaces), and Finishing HDCL.
Through the visit to Burns Harbor, the teachers have gained a more intuitive experience of the process of steel manufacturing, which will help the teachers to have a deeper understanding in their research projects.