PNW Material Advantage Students Network at AIST Dinner
April 18, 2022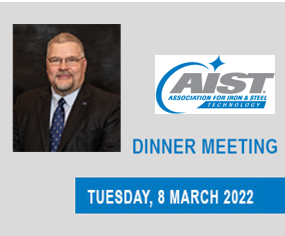 PNW Materials Advantage Group students are very active in attending Association of Iron and Steel Technology (AIST) Midwest Chapter Monthly dinners.
The most recent dinner held at the Avalon Manor in Merrillville, IN on April 12, 2022, has provided PNW students opportunities to learn about the steel industry and gain practical knowledge through keynotes and networking with over 300 attendees from numerous local and regional steel producers and suppliers.
Frank Mrvan, the representative for Indiana's 1st congressional district, is invited to give a speech at the beginning of the event. He met with CIVS research staff and students and shared on Facebook that "Great to meet with Purdue Northwest students and Dr. Chenn recently at the AIST – Association for Iron & Steel Technology Midwest Chapter meeting in Merrillville. Thank you for your efforts to support domestic manufacturing, and I wish all of you the best in your continued studies."
Barry T. Schneider, the keynote speaker is invited to the dinner meetings.  Barry is the Senior Vice President of the Flat Roll Steel Group in Steel Dynamics Inc. In his presentation, he shared many of his experiences from working in the steel industry researching and gave an overview of the Steel Industry.
The Association for Iron & Steel Technology (AIST) is a non-profit organization with 15,500 members from more than 70 countries. With 30 Technology Committees and 22 Local Members Chapters, AIST represents an incomparable network of steel industry knowledge and expertise. Its mission is to advance the technical development, production, processing, and application of iron and steel.  The Midwest Member Chapter is the largest AIST member chapter with more than 1,600 members and includes North Dakota, South Dakota, Minnesota, Iowa, Nebraska, Wisconsin, Northern Indiana, and a small portion of Northwestern Illinois.