SMSVC Hosts a Successful Hybrid Semi-Annual Meeting
April 25, 2022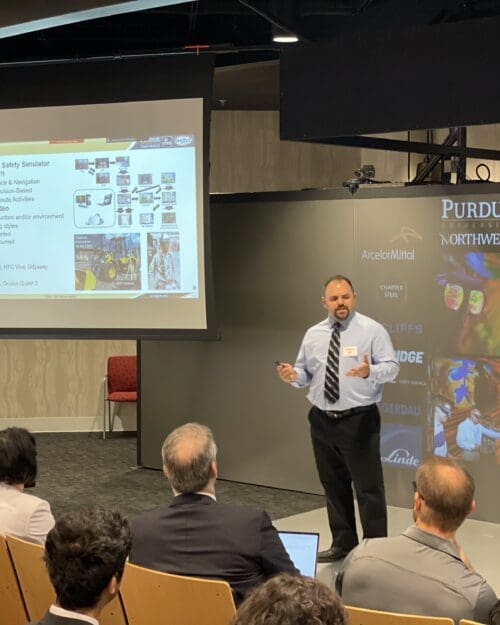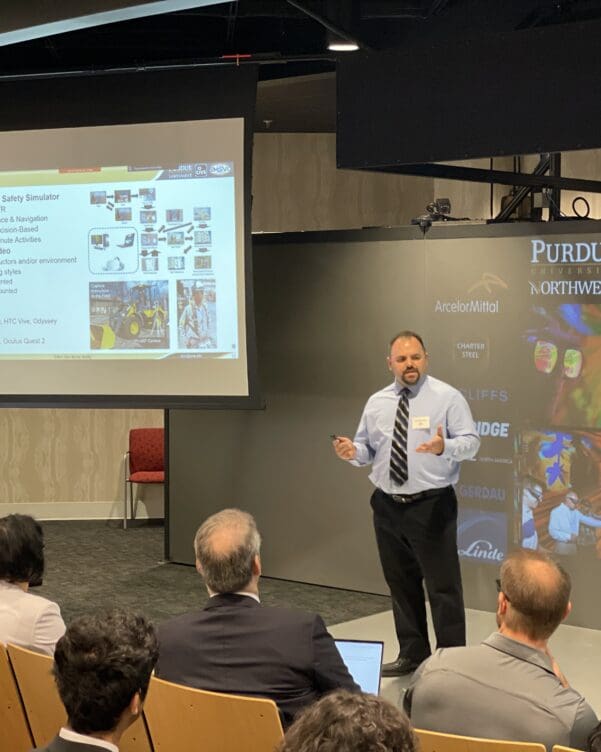 Steel Manufacturing Simulation and Visualization Consortium (SMSVC) held its Semi-Annual meeting on April 20th and 21st, 2022. For the second time in a hybrid manner, close to 90 attendees, including CIVS staff and students, joined together in this two-day event. This meeting drew steel manufacturing engineers and process professionals from across the globe, virtually and in-person, for a review of ongoing student-and-industry collaborative research projects that continue to advance steel industry safety, energy and process efficiency, and product quality.
Seven technical presentations in the areas of energy efficiency, safety, product quality, emission reduction, and more, were delivered by CIVS graduate students and staff in the CIVS Immersive Theatre. Presenters were CIVS Ph.D. students Yuchao Chen and Xipeng Guo, CIVS Masters' students Chukwunedum Uzor, Saswot Thapa, Neel Busa, and Emily Higley along with CIVS research staff Jack Moreland, Kyle Toth, Nick Walla, Armin Silaen and Tyamo Okosun. Following the presentations on Wednesday, interested attendees had a chance to tour the facilities of BP Refinery in Whiting, Indiana in the organization of CIVS. Wednesday evening also included a reception and dinner at PNW's Alumni Hall.
After the presentations on Thursday, April 21st, SMSVC Board members, consisting of the representatives of fifteen SMSVC member companies, had their Semi-Annual gathering in which they reviewed the presentations and progress of the projects and discussed potential topics of research in the future. Once again, the Board concluded that CIVS Staff and students consistently maintain a high level of quality work and presentation content, and each time exceeds the expectations of meeting attendees. With the Board meeting, this highly successful Hybrid Semi-Annual meeting was concluded, and the Annual meeting was set for November 2022.