CIVS Welcomes NSF RET Teachers Second Year in a Row
June 14, 2022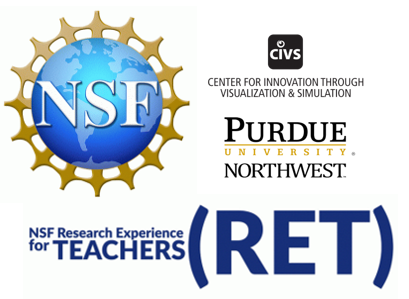 Welcome again NSF RET teachers!
The opening ceremony for the second High School and Community College teacher's summer program was held at the Center for Innovation through Visualization and Simulation (CIVS) Immersive Theater on June 13th. Sponsored by National Science Foundation (NSF) Research Experience for Teachers (RET) program, thirteen teachers will spend six weeks gaining research experience by using simulation and visualization technologies to solve real-world problems in the areas of blast furnaces, reheating furnaces, cranes, and safety. The RET teachers are from local schools including Munster, Homewood-Flossmoor, Merrillville High School, Wheeler High School, Whiting High School, Bloom High School, Crown Point High School, Portage High School, Hammond High School, Ivy Tech Community College and Hammond Academy of Science and Technology.
During the ceremony, the RET teachers were warmly welcomed by CIVS Director, Dr. Chenn Zhou, and Department Chairs, Dr. Grace Yang (Computer Science, Chemistry and Physics), Dr. Li-Zhe Tan (Electrical and Computer Engineering). CIVS staff members and student research mentors also joined the event.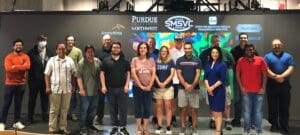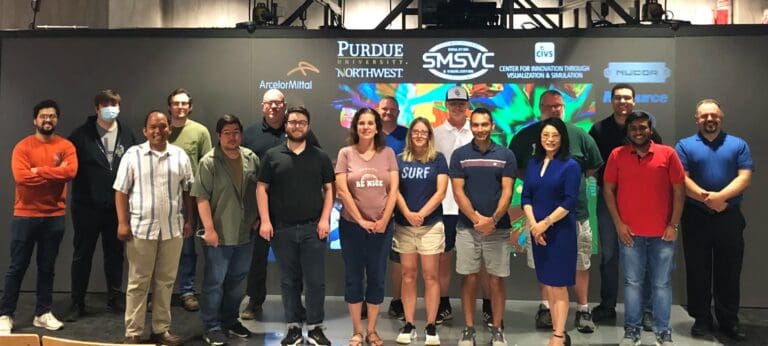 RET program at Purdue University Northwest consists of a six-week summer research program and full-academic year activities focused on using simulation and visualization technologies in "smart" manufacturing to increase energy efficiency, optimize production, predict mechanical failures, and improve safety and product quality. The goal is to enhance STEM education and stimulate high school and community college students' STEM interest through a partnership with participant teachers, university mentors, and industry engineers using simulation and visualization technologies for innovative industrial solutions