CIVS Simulation Joins Iron Industry Exhibit
November 4, 2022
At the Alleghany Highlands Industrial Heritage and Technology Discovery Center, visitors have the opportunity to experience the process of placing a blast furnace into operation and witness raw ore being smelted into pure iron. CIVS developed the interactive simulation, which was the first to join the Iron Industry Exhibit at the Discovery Center.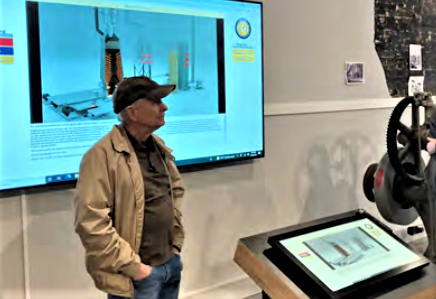 The key features of the simulation are:
interactive touch screen elements
a sped-up version of the blast furnace process shown on the display screen
a haptic system that generates a vibration when the user activates the blast furnace
The Discovery Center is currently in a "soft opening state" as more prototypes join the exhibit. As a result, the iron blast furnace interactive animation project is nearing development completion. The center is looking forward to its impact on the guest's experiences. In addition to "Reflecting on the Past", The Discovery Center's mission statement is to "Engage with the Present" and to "Prepare for the Future". These missions led to a partnership with The Materials Engineering Department at Purdue University.
"It started with a lot of trial and error. We worked closely with Allegheny Group to decide what features were important and what they wanted it to do. They were really patient and gave a lot of useful feedback. That really drove the development of the project," said Cindy Lin. She is a junior-year undergrad visualization student at CIVS who worked on the project under the mentorship of Kyle Toth, Senior Research Engineer.
The Discovery Center is located in Covington, Virginia. It gives visitors an overall hands-on experience that incorporates the science behind manufacturing raw materials into something new. The playful and intuitive nature of the center strives to inspire people of all ages to explore the technological advances that make our modern lives possible. Citizens, school groups, organizations, businesses, and local governments are invited into various industries such as iron, carbon, power/energy conversion, and many more.
You can find out more about the center by visiting https://discoverycenterva.org/