Cleveland-Cliffs Executive VP Delivers Keynote on Decarbonization
May 9, 2023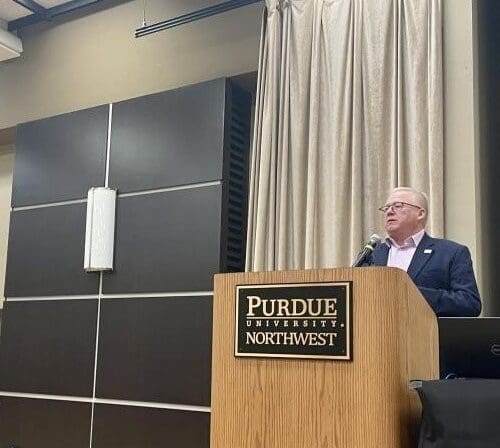 Mr. Wendell Carter, Executive Vice President of Technology at Cleveland-Cliffs delivered a very insightful keynote speech at the SMSVC Annual Meeting dinner at PNW. His speech, entitled "A Discussion on Cleveland-Cliffs Steelmaking, CO2 Capture, & Electrification," covered many vital points, including a decarbonization roadmap to reduce emissions, significant technologies such as Carbon capture, hydrogen production, and utilization, electrification, renewable energy, improving energy efficiency, as well as technological tools available at DOE and the industry. His presentation inspired many crucial questions and discussions from industry leaders in attendance.
The vision for the future of steelmaking that Mr. Carter lays out shows how innovation and change are still necessary. Green energy sources, cost-effective hydrogen implementation, and emission capture are all areas that can be continuously improved to help make American steelmaking the cleanest in the world.




Mr. Carter has executive management oversight for engineering, quality, capital management, and production planning functions of Cleveland-Cliffs' steelmaking operations. He is one of the longest supporters of CIVS. He began his speech by recognizing CIVS's track record in integrating digital technologies to solve real-world problems in partnership with the industry. He thanked CIVS director, staff, students, and SMSVC members for their diligence. He also thanked SMSVC member companies for their dedication to this wonderful partnership. He advocated that there are no shortcuts to success and decarbonization in Steel should be easy if we are all committed to innovation and practical solutions through multiple routes.
Wendell supported CIVS Director Dr. Zhou's first project in the steel industry: to develop a blast furnace CFD model to predict and extend the furnace campaign life. This project established a solid foundation and a great pathway to founding the Center for Innovation through Visualization and Simulation (CIVS) at PNW in 2009 and the nationwide, industry-driven Steel Manufacturing Simulation and Visualization Consortium (SMSVC) in 2016. Cleveland-Cliffs is a charter member of the SMSVC, which receives invaluable support from 15 member companies.