Impacts
CIVS's multidisciplinary research projects have substantial economic and intellectual impacts on local and global communities and industries and provide great research opportunities for Purdue Northwest faculty and students.
Highlights Since 2009
$40+ million savings for companies from five largest news-released projects
$37,600,000+ in external grants and contracts
180+ external organizations collaborated with CIVS
420+ projects
670+ national and local news
2,020+ students employed and mentored
11,550+ students used CIVS for virtual labs
150+ Purdue Northwest faculty and staff collaborators
305+ student awards and grants (globally, since 2011)
36,100+ local, national and international visitors
Community Engagement
CIVS projects—more than 420 to date—have involved working closely with industry, K-12 schools, colleges and universities, youth-development organizations, professional/community associations and governmental branches to address critical issues in engineering, energy, education, productivity, quality, safety and the environment.
Through partnerships with more than 180 external organizations, CIVS has successfully completed over 230 virtual design and virtual education projects.
Since 2009, CIVS has hosted and participated in more 100 K-12 outreach activities and events, impacting more than 8000 students. Examples of events/activities and organizations include:
Girl Scouts of the USA
CIVS-hosted tours and demonstrations of simulation and visualization/virtual reality technologies were among the activities developed for a STEM Night for Girl Scouts at Purdue University Northwest.
Boy Scouts of America
Immersion in VR environments and demonstration/of software tools and environment creation in computer labs.
AIST High School Engineering Seminars
Annual event for around 300 high school students, hosted by the Midwest Chapter of the Association for Iron and Steel Technology, at PNW; CIVS provides seminars on virtual iron- and steelmaking processes using simulation and visualization technologies.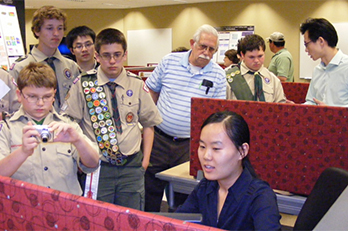 PNW/Enbridge Engineering Summer Camps
Week-long (or longer) camps for sixth to 12th-grade students with hands-on experiences in mechanical, electrical, computer, and civil engineering topics, held every summer. CIVS provides two-day sessions for students to be engaged in applied simulation and visualization projects.
ASM Student Materials Camp
Semi-annual event hosted by ASM at technical conferences for more than 200 high school students. CIVS develops and provides a 3D video of iron- and steelmaking processes.
Camp Leo
This two-day, PNW-sited camp guides students through applications & admissions processes, financial aid, student support services, and academic expectations (including lecture and lab presentations). CIVS has developed an "Intro to 3D Modeling and Visualization" course for classroom and computer demonstration experience.
By providing a forum for knowledge transfer and professional-development opportunities to collaboration on economic, infrastructure and environmental sustainability, CIVS continues to be an active participant in community initiatives.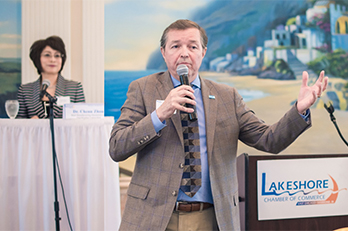 When the Lake Area United Way, in collaboration with Food Bank of Northwest Indiana and Congressman Pete Visclosky, organized a "Superheroes Against Hunger" Canstruction competition, CIVS researchers developed software to help design and construct the canned-food sculptures and track materials needs and costs.
CIVS/PNW faculty, staff, and students have also hosted and delivered presentations to regional chambers of commerce, manufacturing summits, Department of Natural Resources boards and leadership and development associations such as Northwest Indiana One Region and the Calumet Area Industrial Commission (CAIC).
In addition, CIVS faculty and staff are regularcontributors to Purdue Northwest's Friday University course offerings, whereat adults of any age can find "intellectual enrichment through a variety of interesting discussions in expert-led workshops, without the pressure of pre-requisites or tests."