Distinguished Speaker Series
The CHESS Distinguished Speaker Series features compelling talks on everything from the representation of Mexicanness in animated films to what could happen around the Great Lakes.
The Dean's office is committed to bringing the highest quality academic speakers in all fields within CHESS to the university to enrich PNW's intellectual community through public lectures, classroom presentations, and faculty development workshops.
We aim to populate the CHESS Distinguished Series with special emphasis on inviting internationally recognized academic professionals based at well-regarded local Midwest institutions, such as the University of Chicago, Northwestern University, University of Notre Dame, Indiana University, Purdue University West Lafayette, University of Michigan – Ann Arbor and Oberlin College.
2021-2022 Speakers
---
October 18, 12:30 – 2 p.m.
Representation of Mexicanness In Animated Films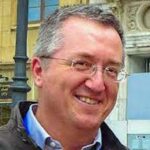 Manuel Martin-Rodriguez, Ph.D., Professor of Literature give an in-depth look at how Mexico and Mexicans are represented in children's films, and why it is important to analyze that field.
Hybrid: In-Person and Synchronous Zoom
Room: GYTE 240, Hammond
Join Via Zoom
Meeting ID: 959 6193 0227
Passcode: 202079
---
NOVEMBER 2, 3:30 – 5:30 p.m.
It's a Marathon, Not a Sprint: Anti-Racist Educators' Journey
Malik S. Henfield, Ph.D, professor and founder of the Institute for Racial Justice and Janice Byrd, Ph.D., associate professor of counselor education talk about an anti-racist educators' journey of engaging in self-work and connecting theory to practice.
Becoming anti-racist begins with a commitment to critically interrogate and dismantle the historically racist educational systems that harm students of Color across their lifespan.
Meeting ID: 943 0560 8311
Passcode: 473622
---
March 9
The Water Belt: What Must and Could Happen around the Great Lakes?
Rachel Havrelock, Ph.D. associate professor of English, at the University of Illinois at Chicago and Founder and Director of UIC Freshwater Lab discusses the Great Lakes.
The Great Lakes region has long borne a reputation for being the 'Rust Belt' characterized by deindustrialization and population decline. As a changing climate transforms water geography across the globe, what role might the region play? What are things that must occur to ensure the region's viability? What are some of the economic, social and environmental possibilities for the Great Lakes basin in the 21st century and beyond?
Location
2 p.m. at Y-Jean Chambers Student Union Library (SULB) 353