Ten Highlights From the 2021-22 Academic Year
June 6, 2022
Purdue University Northwest (PNW) demonstrated its status as the region's premier metropolitan university through achievements and events in its academics, student life, athletics, and community impact.
Revisit some of the top moments from an exciting academic year. These highlights are presented in chronological order.
PNW's academics recognized nationally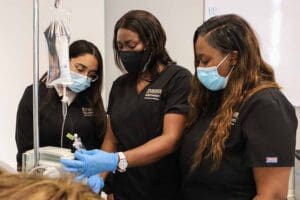 Several of PNW's academic programs earned accolades during the academic year from the annual U.S. News & World Report rankings.
In September 2021, the publication's Best Colleges rankings included PNW's School of Engineering as No. 53 nationally among engineering programs whose highest awarded degrees are bachelor's or master's. PNW's College of Nursing was also included in the first-ever best undergraduate nursing programs rankings. PNW's computer science program and the university's social mobility were additionally recognized.
In January 2022, the College of Nursing's online RN-to-BSN program was ranked 39th among the best online bachelor's degree programs. The online MSN program was also ranked among the best online nursing master's programs.
In March 2022, the College of Nursing's in-person MSN program was ranked 88th among the best nursing master's degree programs. The College of Business' MBA program was also ranked among best part-time MBA programs.
PNW Athletics adds Women's and Men's Track & Field
PNW Pride Athletics increased its number of fielded Division II teams to 17 with the addition of women's and men's track & field teams, announced in September 2021.
PNW Track & Field will begin competition both indoors and outdoors starting in the 2022-23 academic year. Coach Austin Warner will lead the programs.
"I am thrilled about the addition of NCAA track and field at Purdue Northwest," Warner said. "The addition of women's and men's track and field gives more opportunities for current and future student-athletes to compete in GLIAC and NCAA Championships. Track and field will bring added value to our growing athletic department. I am excited to be a part of this amazing opportunity to build these programs from the ground up."
Inaugural Hispanic Heritage Festival brings community together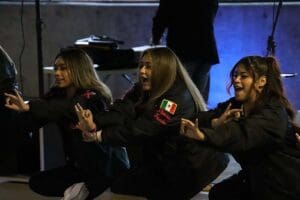 PNW enjoyed a large turnout of about 700 community members in October 2021 for its first-ever Hispanic Heritage Festival. The celebration was the culminating event of PNW's Hispanic Heritage Month recognition. Festivalgoers enjoyed food and crafts from local vendors, music, dancing, and cultural lessons from student organizations.
The party's energy never stopped, even with the event moved inside PNW's 169th Street parking garage due to rainy weather in the area.
"So much of American culture has been influenced by Hispanic culture through food, art and language," said Catalina Rodriguez, assistant vice chancellor for Education Opportunity Programs at PNW. "Hispanic Heritage Month is an opportunity to learn about and reflect on those contributions, and to recognize, observe, and measure that impact."
First honey haul yields over 200 pounds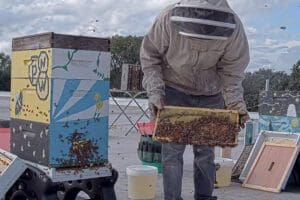 Honey bees, a sustainability initiative by PNW introduced in the summer of 2021, delivered their sweet product in October.
More than 200 pounds of honey was harvested from PNW's beehives. The university has four at its Hammond campus, two at its Westville campus, and two at Gabis Arboretum.
Griffith-based Earthling Bee Company partnered with PNW and donated honey supers with beeswax to kickstart the hives. Co-owner Nicky Jones also helped with the harvesting in October.
"It's about teaching folks what the honeybee entails," said John Bachmann, Grounds and Landscape Manager. "Many don't really know anything about honeybees and beekeeping. We are stewards of the environment and we should want to take care of every living thing, especially honeybees because they pollinate so many things."
Economic impact study emphasizes PNW's local influence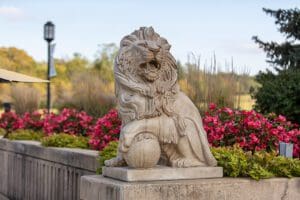 An economic impact study, commissioned by PNW and completed by Emsi Burning Glass, found the university adds nearly $746 million in total income to Northwest Indiana and supports 10,494 jobs in Lake, Porter, and LaPorte counties.
The study also found PNW accounts for 2% of gross regional product, and that the university's activities and students support 1 out of every 36 jobs in Northwest Indiana. PNW additionally economically influences Cook County in Illinois and communities in southwest Michigan.
"Every dollar spent by students on a PNW education increases their lifetime earnings fourfold," said PNW Chancellor Thomas L. Keon. "From a taxpayer perspective, every $1 invested at PNW returns $1.70 to the local economy, for a total value of $89.7 million in future tax revenue and government savings."
Approval received for Doctor of Technology degree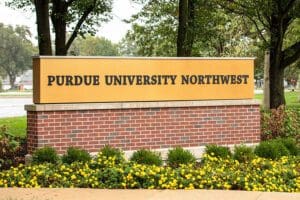 PNW received approval in December from the Purdue University Board of Trustees to offer a Doctor of Technology degree, pending additional approval by the Indiana Commission for Higher Education and the Higher Learning Commission.
The professional practice degree program will provide vital transformative science, technology, engineering and mathematics (STEM) education. The program will benefit individuals who are interested in expanding and applying knowledge and research to solve practice-based problems in technology and society.
"Although there are a number of online Doctor of Technology programs in the United States, this on-campus doctoral program in the technology field is the only one of its kind, fostering innovation through applied research," said Mohammed Zahraee, associate dean of Graduate Studies in PNW's College of Technology.
Transformational Impact Lab supported by generous donors' gift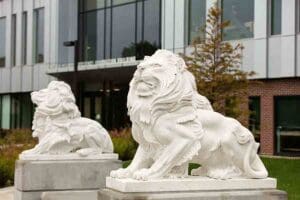 Alumnus and donor David Roberts and wife Susan Roberts generously gifted $3 million for a planned transformational Impact Lab. The Roberts Impact Lab at PNW, announced in January 2022, will be a workspace for entrepreneurship, innovation, and education collaboration.
The donation matches an earmarked $5 million from the recent $50 million Regional Economic Acceleration and Development Initiative grants awarded to Northwest Indiana by the Indiana Economic Development Corporation.
"When PNW Chancellor Tom Keon and Dean Niaz Latif approached us about the opportunity to invest in the Impact Lab, it took very little time for us to say yes to the opportunity to create a place for students, educators and entrepreneurs to collaborate on innovative ideas and concepts that will strengthen the manufacturing base in Northwest Indiana," said David Roberts.
Approval received for Cybersecurity bachelor's degree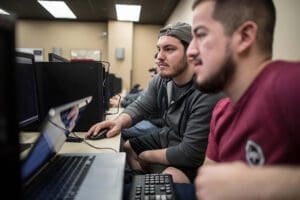 PNW received approval in April from the Purdue University Board of Trustees to offer a Bachelor of Science in Cybersecurity, pending approval by the Indiana Commission for Higher Education.
The bachelor's degree will prepare undergraduates with the technical competency to protect networks, systems, programs, and data from criminal or unauthorized use. Students currently in PNW's Computer Information Technology degree program, with a concentration in Cybersecurity, will be eligible to transition to the new bachelor's in Cybersecurity.
"Cybersecurity is important because we are living in a connected world," said Keyuan Jiang, professor of Computer Information Technology and department chair of Computer Information Technology & Graphics at PNW. "All will be impacted by cybersecurity one way or another. We need to have a strong workforce in place to make sure things won't happen as severely as we've experienced in the past. Cybersecurity incidents are shown to have huge costs."
PNW roars ahead with generous support on Day of Giving
PNW raised nearly $900,000 from more than 1,240 donations in 24 hours during its annual Day of Giving online fundraiser in April.
Donors' gifts to PNW are used to support student scholarships, academic programs, Pride athletics, student organizations and other strategic initiatives.
PNW ranked fourth among 73 participating units in the Purdue system for total gifts received. The university was in the top 20 of participating units system-wide in total dollars raised. These achievements awarded bonus money to PNW.
"PNW received an overwhelmingly positive response with generous gifts from all across our community to support PNW's students, academic initiatives, and mission," said Lisa Goodnight, vice chancellor of Institutional Advancement at PNW. "Our sincerest gratitude goes out to all those who took the time to contribute a gift."
5.75 Roaring Ahead celebration marks PNW's milestones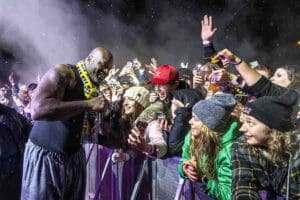 PNW celebrated its 5.75 Roaring Ahead celebration across the academic year with several signature events. The celebration marked the fifth anniversary of the establishment of PNW and the 75th anniversaries of its legacy institutions, Purdue Calumet and Purdue North Central.
In April, PNW hosted DJ Diesel, AKA Shaquille O'Neal, for its showcase student event, the Roaring Loud concert. DJ Diesel brought the dance party, even in the snow, to mix hip-hop, rap, and EDM music for the crowd.
The yearlong celebration will be capped off by the Roaring Ahead Scholarship Gala in June at Hard Rock Casino Northern Indiana. All proceeds from the gala will directly benefit student scholarships.