Pre-Graduation Guide
Fall 2021 Commencement ceremonies will be held on Saturday, December 11, at the Westville Campus in the James B. Dworkin Student Services and Activities Center, H. D. Kesling Gymnasium.

Sunday, December 12, is being held as an alternate inclement-weather date.
Commencement Times
AM Ceremony (11 a.m.)
College of Business
College of Engineering & Science
College of Technology
PM Ceremony (3 p.m.)
College of Humanities, Education and Social Sciences
College of Nursing
COVID-19 Precautions
State, local and university health and safety protocols will be followed.  All candidates for graduation, guests, faculty and staff must wear face coverings.
---
Important Steps for Graduation
Follow these steps to ensure that you are eligible to graduate, have a diploma ordered for you, and meet the required deadlines to participate in a commencement ceremony.
1. Apply to Graduate
All students must notify the Office of the Registrar of their intent to graduate when registering for their final course(s) of their degree program by completing the online Application to Graduate. Meet with your academic advisor to discuss your readiness to graduate to ensure you will meet all degree requirements.  Failure to notify the Office of the Registrar may result in a delayed graduation date.
Apply to Graduate for the semester in which you will be finishing your degree requirements. Completing the online Application to Graduate is required whether or not you plan to participate in a commencement ceremony and officially notifies the Office of the Registrar and allows you the opportunity to provide exactly how you would like your name printed on your diploma.
Spring
Spring 2022 candidates for graduation must complete the online Application to Graduate in the myPNW portal on the Graduation tab.
Deadline to Apply to Graduate for Spring 2022 is Sunday, January 23, 2022.
Step by step instructions on how to submit your Application to Graduate.
Step 1:  Log in to myPNW portal with your username and Boiler Key.
Step 2:  Go to the Graduation page and click on the "Apply to Graduate" link.
Step 3:  Use the radio button to select the Curriculum (degree) you are seeking to apply for.  If you do not see your intended degree listed here, contact graduation@pnw.edu immediately to confirm your degree and major.  Once you have verified your information, click Continue.  Note: The term shown in this section is your curricula (catalog) term, not your graduation term. That will be selected on the next screen.

Step 4:  Select your Graduation Date from the drop down menu.  The date shown here is the last day of the semester and may not represent an actual ceremony date.  Answer the Graduation Attendance questions and then click Continue.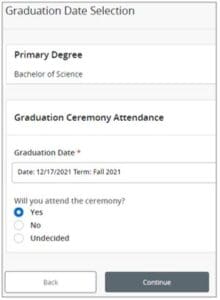 Step 5:  Select your Diploma Name from the name on your permanent record or enter a new name and click Continue.  Note:  This will not change your name that we have on file; it will only affect the printing of your diploma.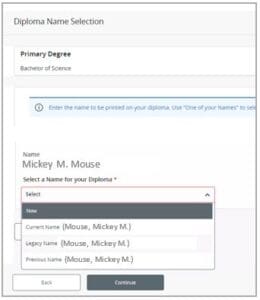 Step 6:  Select your Diploma Mailing Address from the list of addresses we have on file or enter a new one and click Continue.  Note:  This will not change the address that we have on file; it will only be used to mail your diploma.  If you need to update your address for purposes in addition to diploma mailing, please submit an Address Change form.
Step 7:  On the final screen you will be asked to verify the information that you have entered.  You can Go Back to edit your selections if needed or Submit your application to complete the process.  You will receive a confirmation email.
When you Apply to Graduate you will also indicate how you would like your name printed on your diploma. For more information about diplomas visit the Diploma web page.
Certificate only (non-degree) students must Apply to Graduate but do not participate in commencement ceremonies.
In the myPNW portal, go to the Registration tab. Click the Student Self-Service box and select Personal Information from the menu options to review the address we have on file. If your address is incorrect, update it by completing the Address Change form.
Diplomas for candidates who are unable to pick them up from the Office of the Registrar will be mailed to the graduate's current mailing address as noted in our student information system. Please verify that your address is correct!
Purdue Northwest holds commencement ceremonies twice a year in May and December. The ceremony you may participate in depends on when you complete your final classes.
Spring Commencement (May)

If your final classes end in the first week of May, your graduation term is spring and you may participate in the May commencement held on the Hammond Campus.
Fall Commencement (December)

If your final classes end in August, your graduation term is summer. Both summer and fall graduates participate in the December commencement held on the Westville Campus.
If your final classes end in December, your graduation term is fall. You may participate in the December commencement held on the Westville Campus.
2. Purchase your Cap and Gown
Graduation regalia – cap, tassel and gown – must be purchased from the PNW Bookstore.  Cap and gown orders will be processed beginning October 18 through November 12 at 1:00 p.m.
Regalia can be purchased through Follett at the bookstore on the Hammond campus, Monday through Thursday from 9:00 a.m. to 3:00 p.m. or ordered online.  You can choose to have the regalia shipped to you or select on-campus pickup in Hammond or Westville.  You will need to know your height and weight at time of purchase to ensure the appropriate sized regalia.
Please contact the Bookstore for more information regarding sizes and pricing and how to purchase your regalia. All purchases are a final sale.
The purchase of your regalia serves as your RSVP and indicates to PNW your intention to participate in a Commencement ceremony.  Please note that due to limited space for seating, any late orders (after November 12) are not guaranteed ceremony participation or guest tickets.
Retain your receipt as you will need it when you pick up your guest tickets for the ceremony.
3. Commencement Tickets
Guests wishing to view Commencement in person must have a ticket supplied by the candidate to enter the ceremony venue. Candidates will receive 4 guest tickets.
Tickets can be picked up in person at Office of the Registrar at either campus beginning October 18 through November 12, Monday through Friday, from 8:00 a.m. to 4:30 p.m.
Hammond in Lawshe Hall, room 130
Westville in Schwarz Hall, room 40
You must present a PNW regalia purchase receipt to pick up your Commencement guest tickets.  If you purchase your cap and gown online, we will include the tickets in the package mailed to you.

4. Graduation Resources
Candidates and graduates are invited to use the following services and products provided by Purdue University Northwest and trusted vendors.
Your diploma reflects your academic success. On the Apply to Graduate that you previously submitted you indicated how you would like your name to appear on your diploma.
If you have any changes, please email the Graduation Coordinator at graduation@pnw.edu.
As a gesture of gratitude and appreciation for their supporters, all graduation candidates have the opportunity to record and submit an audio testimonial that will be played ahead of the ceremony. Guidelines for submitting an audio testimonial are as follows:
The deadline for submission for Fall 2021 – TBA.
The message should be no longer than 30-45 seconds in length.
Plan your message in advance and write it down for reference.
Using a voice recorder, speak slowly and clearly in the English language.
Send your voice recording message to graduation@pnw.edu. The subject line should include "Audio Message".
Sample Message:
My name is _______________________.  I am graduating with a _______________ degree in ______________________.  I would like to thank my (family, friends, professors and classmates) for their love and support while I pursued my goal of becoming a graduate of Purdue University Northwest.
Graduation regalia must be purchased through the PNW Bookstore and they also offer a variety of diploma frames, souvenir tassels, and other Alumni items. Don't forget to grab some PNW Pride gear like T-shirts, hats or hoodies, too!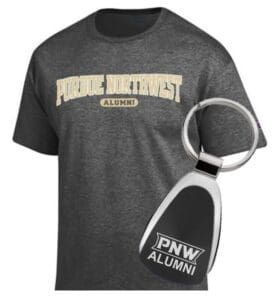 Let others know about your accomplishment!  Purdue University Northwest graduation announcements let you share the good news with family and friends.
Commencement Flowers strongly encourages customers to take advantage of their online pre-order services for rose bouquets and commemorative PNW commencement T-shirts. They offer a contact-free experience for guests who are picking up their pre-purchased and reserved products.
Click here to see Commencement Flowers products and to pre-order.
Special Requests
International Students
The Office of the Registrar will provide a letter of invitation to assist graduates whose parents/guests need to apply for a visa to attend the commencement ceremony. You must have completed the online Application to Graduate prior to requesting this letter.
International Student Families Letter Request
A letter in a sealed envelope will be provided for each person that you list in your request. Please allow two weeks to receive the letter. You may pick up your letters in the Enrollment Services Center (Lawshe Room 130) at the Hammond campus or in Schwarz Room 40 at the Westville campus. Be sure to bring your Purdue ID card or other photo ID with you. You can then forward the letter of invitation to parents/guests for use in documenting their visa request.
Receipt of an invitation letter does not guarantee candidate status or your participation in the ceremony.
Have questions? Contact the graduation coordinator at (219) 989-2334 or email graduation@pnw.edu.
Questions about what you need to do to prepare for graduation?
Contact the Office of the Registrar.
Phone: (219) 989-2334
Email: graduation@pnw.edu
To ensure proper assistance please provide your email address when submitting an email or leaving a voicemail message.