Theatre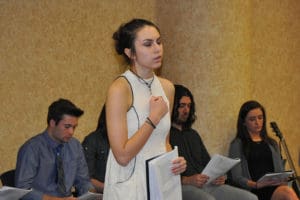 The Communication and Creative Arts department at PNW typically produces two productions a year. In the fall the department hosts a play and in the spring they host a musical. Shows are directed by faculty and/or students and the productions are cast with PNW students.
PNW students, faculty, staff and local community members are encouraged to attend.
Previous Productions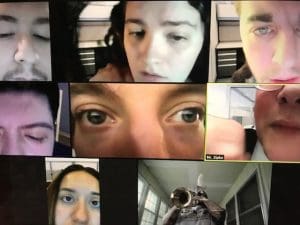 In a law office, several employees argue over the news that a rhinoceros is trampling through the town square. Is this true? Is it a hoax?
Although Eugene Ionesco wrote this play in 1959, in our world it can be challenging to understand if something is a conspiracy, a fact, an alternative fact, or a delusion.
The play explored ideas of mob mentality, cultural conformity, mass movements and fascism.
Rhino: Act II
By Eugene Ionesco
Directed by dado
Music by Jenne Carey
Starring:
Kira Lisle
Tayvia Wilson
Ethan Bukowski
Dylan Root
Matthew Zipko
Sebastian Macias
Luis Gamble
Raquel McCafferty
Thank you to the amazing cast and crew!