Admissions
We are excited you are thinking of applying to our program! The information on this page will be helpful as you construct your application packet. There is a LOT of information on this page, and it can be confusing and sometimes overwhelming. If you would like to speak with the Program Director, ask any questions or get more info – drop him an email!
Application Deadline for Fall 2024 entry is:
Monday, January 8, 2024
NEW! If you'd like to be considered for an Application Fee Waiver Scholarship for Fall 2024 admissions, please click here.
Application Requirements
Qualifications of Successful Applicants
Must have a bachelor's or 4-year equivalent degree from an accredited institution of higher learning (international and world/global accreditations are reviewed on an individual basis).

Preference given to human service, helping profession, or social science field of study asmajor. Strongly recommend at least 3 credits in: Human Development and Family Studies/Sciences, Abnormal/Atypical Psychology, Statistics.

Must have a 3.0 Cumulative Grade Point Average (on a 4.0 scale) from most recently conferred undergraduate, graduate, or professional degree.
Note: No GRE or other exam is required for consideration!
Materials Required to be Included with Application Packet
In order for an application to be considered "complete" and ready for review, all of the following must be submitted or uploaded digitally through the Purdue University Graduate School Admissions Website:
Completed application packet, including all demographic and factual information about the candidate via the Graduate School Admissions website.
Transcripts from all previously attended universities (even if you only took one course there, a transcript is required). Unofficial transcripts can be submitted with your application packet, but it is preferred and recommended that you have official transcripts sent directly from your previous institution to the Graduate Studies Office at PNW for inclusion with your application packet.
Current Resume/Curriculum Vita. This should highlight and summarize your experience and qualifications.
3 Letters of Recommendation. At least one of them must be from a former university instructor/professor. The names and email addresses of your recommender is required by you, and then the person will be contacted to complete a review form and upload their letter of recommendation directly to the system. You should be sure to let them know they will be contacted via email.
Academic Statement of Purpose. This is a prepared document, written and saved as a word or PDF document to be uploaded and included with your application. It should be no more than two (2) pages in length. The Academic Statement of Purpose

is an opportunity for you to share information that will help reviewers understand your academic interests and objectives, assess your academic background, preparation, and training, and determine if you are a good match for the program to which you are applying.

The following topics should be addressed in your Academic Statement of Purpose:

What are your professional plans and career goals? How will attending graduate school assist you in reaching those goals?
Describe your research, scholarly, or creative interests. What topics are of particular interest to you? Reviewers know that interests change over time but try to be as specific as possible.
Discuss how your experiences, skills, and abilities have prepared you for graduate study. Relevant topics may include coursework, work and research experiences, internships, presentations, exhibits, publications, and community service. If you describe a research or scholarly experience, include information on the topic, research mentor, your role, and outcomes.
Describe how your skills, preparation, and interests are a match for the program to which you are applying. Identify faculty who share your research and scholarly interests. Reviewers will want to know that you have researched the program, faculty, and key focus areas.

Personal History Statement. The Personal History Statement

helps reviewers learn more about you as a whole person and as a potential graduate student. This may include relevant details on community service, leadership roles, participation in diverse teams, and significant barriers that you overcame to attend graduate school.

It is r

equired of all degree-seeking applicants, and should be approximately one(1) page in length. It must include:

Describe how your background and life experiences contribute to your ability to be both persistent and resourceful in graduate school.
Describe how your life experiences have prepared you to contribute to an academic community where scholars with diverse research interests, abilities, backgrounds, and experiences are supported, respected, and valued.
(Optional/If Applicable) Please address concerns that you may have that your academic record does not reflect your true capabilities and discuss mitigating factors that have affected your academic record. Reviewers will be interested in understanding your accomplishments relative to your opportunities.
**NOTE: The Academic Statement of Purpose and the Personal History Statement are two of the most important documents in your graduate school application. The documents should be concise, clear, and free of spelling, grammar, and punctuation errors. You should have others review your document for content, organization, and to ensure that there are no errors. Information in the Personal History Statement should complement but not duplicate information in the Academic Statement of Purpose.
Admissions Information for International Students
English proficiency is required for admission to any degree, certificate, non-degree, or other program at Purdue University. Detailed information, requirements, and methods of providing evidence/proof of English Proficiency is available via the Purdue University Graduate School English Proficiency Requirements website.
Frequently Asked Questions & Admissions Process Information
Applications are accepted and reviewed through the Purdue University Graduate School Admissions Website. The Program Director initially evaluates any applications for completeness and alignment with requirements. Upon verification of appropriateness, the core faculty of the CFT Program evaluate each application packet independently before convening in group to determine the top candidates. Those selected from the initial group will be invited to participate in an admissions interview – usually held in the third week of February each year.
Admission interviews are usually held within the third week of February each year. Those applicants who live within a 250 mile radius (within reason, see figure below) are invited an on-campus/live and in-person interview day, and those who live outside of this radius, or internationally, will be invited to participate in a zoom video conferencing interview day. Information on the interview day will be provided in Mid January of each year.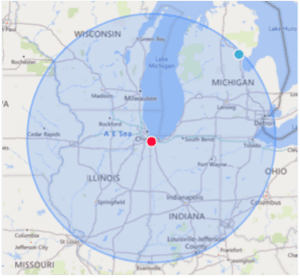 You will be notified by phone call or email if you are offered a chance to interview for admissions by Mid-January of each year. If you have not heard anything about your application by January 31st, please reach out to the Program Director (ckb@pnw.edu) to inquire.
Our goal as a program is to make our decision as quickly and efficiently as possible once all candidates have been interviewed. As we only do one interview day in person, and one interview day via zoom – we are usually able to get together as a faculty group and make our final decisions within a week of the interview dates themselves.
You can expect a phone call or email from the Program Director or a Faculty Member. If ever you do not hear in a timely manner (within a 2-3 week window of the 'due date' or interview), please reach out to the Program Director (ckb@pnw.edu) to inquire.
The application fee is $60 for domestic (US) students, and $75 for all international students. This can be paid to the university directly during the application process.
If you are interested in an Application Fee Waiver Scholarship (available on a limited basis!) – find out more information here.