COVID-19 Update from Chancellor Keon
March 11, 2020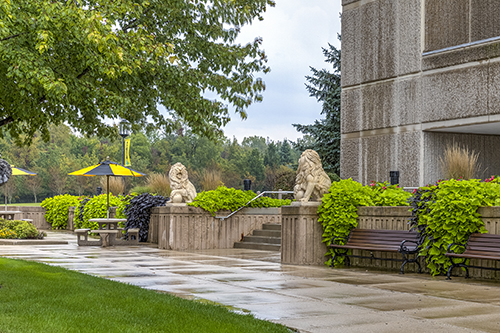 To: PNW Students, Faculty and Staff
From: Chancellor Thomas L. Keon
Date: March 11, 2020
As you are well aware, the global outbreak of COVID-19, the disease caused by a coronavirus, continues to warrant the attention of each and every one of us. The health and safety of our entire PNW university community is our highest priority.
While we have no reported cases of COVID-19 on our campuses, there are confirmed cases in Indiana and Illinois. To minimize the impact of the potential spread of COVID-19 and to protect the health of our PNW community, we have made important decisions today that impact students, faculty and staff of the Purdue University Northwest campuses.
We recognize that these actions will be disruptive and create challenges for all of us, as well as have implications for the university, but the health and safety of our community is our focus at this extraordinary time.
Remainder of the Week
We are suspending most on-campus activities for March 12 and March 13. No face-to-face instruction will be held on these dates except for those classes where exams are scheduled. No on-campus events or meetings of more than 25 people will be held. The campuses will remain open and staff and faculty should report to work as usual.
Future Classes and Instruction
Following spring break (March 14-22), all faculty members will have moved their courses to online or alternative delivery beginning March 23, through April 4. At this time, we anticipate face-to-face instruction to resume on April 6. This could change depending on circumstances as we continue to monitor this situation. Deans and department chairs will communicate with faculty members to ensure instructional materials have been prepared for online delivery by March 23.
Transportation
Service on the inter-campus shuttle between the Hammond and Westville campuses will be suspended as of March 12. Service will resume once instructional operations return to normal.
Campus Operations
The Hammond and Westville campuses, Gabis Arboretum at Purdue Northwest, Portage Meeting Facility and all other PNW facilities will remain open.
University Village
The residence halls of University Village on the Hammond Campus will remain open.
Events
PNW is suspending all events involving 25 or more attendees through April 5.
Athletics
Intercollegiate athletic events will continue as scheduled and follow the guidance of the GLIAC conference, the NCAA and the Centers for Disease Control (CDC).
Summer Study Abroad
All summer study abroad will be cancelled. Students should check with their academic advisor about alternative coursework for the summer.
Staff
Campus operations will continue at this time. Staff should report to work according to their normal work schedules.
Personal Travel
All travelers are urged to carefully consider their intended destinations for personal trips and check on restrictions or quarantine measures that may be recommended or required by the CDC upon arrival or return. Personal international travel is strongly discouraged.
Best Practices
PNW continues to ask everyone in the university community to follow the CDC recommendations for preventive actions:
Wash your hands often with soap and water for at least 20 seconds, especially after going to the bathroom; before eating; and after blowing your nose, coughing or sneezing.
Avoid touching your eyes, nose and mouth.
Avoid close contact with people who are sick.
Stay home when you are sick.
Cover your cough or sneeze with a tissue, then throw the tissue in the trash.
Clean and disinfect frequently touched objects and surfaces using a regular household cleaning spray or wipe.
Updates will be provided as further information becomes available. You can find the most current information and guidance for the university on these websites:
Purdue West Lafayette Covid-19 Guide
We recognize that these actions will raise many questions about specific situations. Please see your supervisor with questions.
Again, we know this is an exceptionally challenging time for PNW, and it will take all of us working together to navigate this situation and protect the health and well-being of our university community. I would like to share my sincere appreciation in advance for coming together as the university community to make things happen at this time.
Chancellor Thomas L. Keon