COVID-19 Update from Provost Latif
March 13, 2020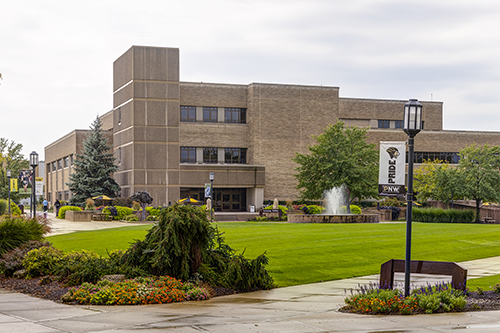 To: PNW Students, Faculty and Staff
From: Niaz Latif, Interim Provost and Vice Chancellor, Academic Affairs
Date:  March 13, 2020
First, my thanks for all of the actions being taken to support our response to COVID-19.  Chancellor Keon the Deans, and I greatly appreciate the Power Onward attitude expressed by our students, faculty and staff over the past several days – your resolve and support has been truly impressive. Your many questions have been helpful and we continue to point you to the PNW website COVID-19 guide for answers to those questions.
Given the events of the past 72 hours, I write to share some additional information with you.  As Chancellor Keon indicated in his message of March 11, we anticipate resuming classroom instruction on April 6; however, "this could change depending on circumstances as we continue to monitor this situation." We will make that decision no later than Monday, March 30.
To be clear, by March 30 we will communicate whether we will resume face-to-face instruction on April 6, or whether we will continue remote instruction for a longer period of time. We are hopeful this date is helpful for your planning purposes.
Please know that the University Village residence halls will remain open, and our partners with Chartwells food service have committed to continuing to provide service on both campuses. The libraries and computer labs on both PNW campuses remain open as well, for students who require access to computers or internet service or a quiet place to study. The hours for the cafeterias, the libraries, and computer labs are available in the FAQs on the PNW website COVID-19 guide.
We wish students a safe and healthy spring break. Please be reminded that classes will be delivered remotely from March 23 to April 4, and that by March 30, we will let you know whether or not we will be holding face-to-face classes starting April 6.
Another important update for today: The CDC has raised the travel designation for most European countries to Level 3 for coronavirus. Given this development, Purdue Northwest faculty members, staff and students returning from these Level 3 countries are required to self-quarantine for 14 days before they return to campus. In addition, the university will delay arrival of visitors from the affected countries.
Again, my thanks to each of you for all you are doing to help us navigate this challenging situation successfully. We will continue to keep you informed to the best of our ability and urge you to check the website often for help answering your questions and for updates.
Niaz Latif, Interim Provost and Vice Chancellor, Academic Affairs