Step UP Bystander Intervention
Developed by the University of Arizona and the NCAA, PNW's Step UP! program raises awareness, provides skills and educates people to recognize the continuum of violence.
You can help prevent incidents before they occur and help to keep your friends safe. Bystander-intervention training empowers participants to recognize, intervene, prevent and/or stop inappropriate comments, actions and behaviors. The entire campus community plays a valuable role in preventing acts that violate the basic dignity of an individual.
Training Goals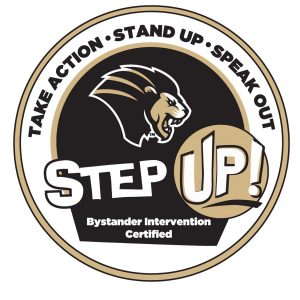 Often people don't intervene because they may assume the situation isn't a problem, or feel it is none of their business. They may assume that someone else will do something, or believe that other people weren't bothered by the problem. In some cases, a person might feel their personal safety is at risk.
When people do intervene in a situation, they often say that it was the right thing to do and that they'd want someone to intervene if the roles were reversed.
Purdue University Northwest Steps UP!
The Five-Step Decision-Making Model
Notice the event
Interpret it as a problem
Assume Personal Responsibility
Know how to help
Step UP!
Hammond Campus
If you are interested in participating in our Step UP! program please give us a call at 219-989-4141, and we can let you know when the next training session will be.
Westville Campus
At the Westville campus, we offer Bystander Intervention Training. Please contact Shane Prance at (219) 785-5660 for more information.