Literacy Training in Dyslexia Program
Approved by the Indiana Department of Education, our reading specialist with training in dyslexia program supports K-12 students with significant reading difficulties.
The program consists of 50 hours of professional development, including 40 hours of face-to-face training and 10 hours of online training. Email us if you would like to join our next cohort, which will be offered at a later-determined date.
Program Foundations
Participants will build a solid foundation in the reading process:
understanding reading difficulties, including their relationship to learning disabilities
the history and origins of dyslexia
identifying reading problems and underlying causes
assessing and monitoring progress
develop practical reading intervention plans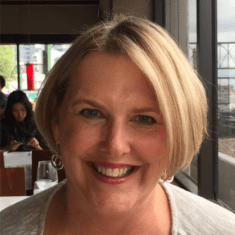 Mary Ann Cahill, Ed.D.
Chair of Undergraduate and MAT Program at Bellarmine University

---
Mary Ann Cahill, Ed.D.  is an Associate Professor of Literacy and the Chair of Undergraduate and MAT programs at Bellarmine University in Louisville, KY. She received her doctorate in Curriculum and Instruction with a specialization in Literacy from Boise State University in Boise, Idaho, and her Master's degree in Literacy from the University of Dayton. Dr. Cahill taught elementary school (K-5) for eighteen years before becoming a professor for the last ten years. Prior to working at Bellarmine, Dr. Cahill taught at Boise State University where she coordinated the reading clinic and the Summer Literacy Academy. Her research addresses a focus on Early Literacy, specifically English Language Learners and Comprehension Instruction. Other scholarly interests involve critical literacy, dyslexia, and professional development for teachers. Research by Dr. Cahill has been published in The Reading Teacher and Young Children. At Bellarmine, Dr. Cahill teaches a variety of literacy courses at both the graduate and undergraduate levels.