About Us
Welcome to the School of Engineering at Purdue University Northwest!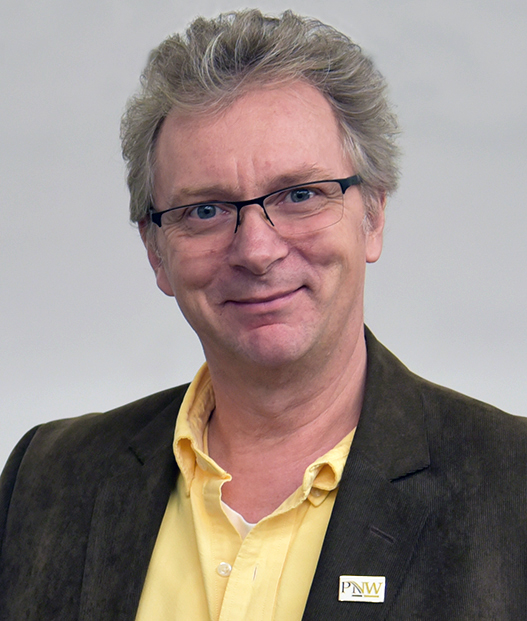 I know you have lots of options when it comes to choosing a college or university. And if you're thinking about studying engineering, that means you want to choose a school where you can be with people who are passionate about our profession. You want to get the chance to work with top professionals in the field—and on really interesting projects. And you want to get your degree from a university that is known for academic excellence, strong teaching, and exciting research.
So why study engineering at PNW?
To best answer that question, let me tell you why I came here.
I came to Purdue University Northwest to be the director of the School of Engineering because I believe this is absolutely one of the best places in the country to study engineering. I came here because the faculty are first-rate, the research they're doing with our students is exciting—and it's fun to come to work here each and every day to see what PNW engineering students are doing.
I came to PNW because I believe we have a real opportunity to make a meaningful difference in our profession. Our graduates are more than engineers. They are working on projects that will change how we live and work and play. They are tackling big problems—the ones that others have said are impossible to solve.
And they are optimistic about the future.
So if you want to be part of something big, like I do, then you've come to the right place. Be #PNWEngineeringProud at The School of Engineering at Purdue University Northwest.
Dietmar Rempfer, Ph.D.
Interim Dean, College of Engineering and Sciences
Director, School of Engineering
Purdue University Northwest
---
Mission and Vision
Mission Statement
Our mission is to prepare our graduates to recognize the complexity of the world and its grand challenges; to appreciate the relationship of their work to society; to identify and solve problems with creativity; and to do so in an ethical and thoughtful manner. An education with regional emphasis enables our students to apply their expertise to support our local communities as well as dedicate their creative enterprises for the good of humankind.
Vision Statement
Students educated at the School of Engineering at Purdue University Northwest will be recognized for their comprehension and innovative application of engineering principles. They will be able to identify opportunities and communicate practical solutions to a wide range of audiences, and they will be confident in the skills imparted to them by our highly skilled faculty supported by the training they receive in our state-of-the-art facilities.
---
Meet Our Staff
---
Research Centers
School of Engineering External Advisory Board Members
Mark Fisher, Dwyer Instruments
Michael Glenny, BP America, Inc.
Kenneth Groen, Siemens Industry
Kris Johnson, Intel (retired)
Kathy Luther, NIRPC
Stewart McMillan, Task Force Tips, Inc.
Hassan Nagib, Illinois Institute of Technology
Kay Nelson, Northwest Indiana Forum
Cynthia Pederson, US Nuclear Regulatory Commission
Robert Presnak, Sargent & Lundy (retired)
Jason Richards, Orbital Engineering, Inc.
Donna Riley, Purdue University
Kurt Sangster, NiSource
Carole Wedge, Shepley Bulfinch