Senior Design
Welcome to Engineering Senior Design Spring 2021! Senior Design provides Purdue University Northwest engineering students with supervised experience in the process and practice of engineering design.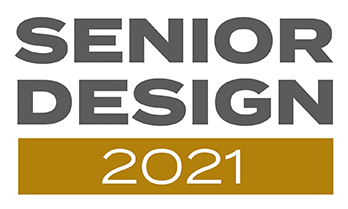 Students working in teams pursue an idea from conception to realistic design. The course concludes with the presentation of a substantial written report and a formal oral presentation.
This semester, Senior Design was virtual. Student teams prepared electronic reports and videos to showcase their hard work and project results. We are #PNWEngineeringProud of all of our student teams, their advisors, and our industry partners!
Congratulations to the Top Three Teams
First Place
Annealing Furnace Rack Design – Jose Martinez, Joseph Madrigal; Advisors: Chenn Zhou, Nick Walla
Second Place (Tie)
O2 Enriched Combustion in Reheat Furnace – Emily Higley, John Rosser, Nathaniel Doan; Advisors: Chenn Zhou, Armin Salean
Grid-Tie Photovotaic System with Scaled Design and Cyber Data Collection – Regan Sink, Christian Ramirez; Advisor: Li-Zhe Tan
Third Place
NASA Human Exploration Rover Challenge 2021 – Telemetry – Jack Downs, Ethan O'Riley; Advisors: Harvey Abramowitz, Don Gray
---
Spring 2021 Team Projects:
Steel Bridge
Anthony Fadke-Giblin, Anthony Smierciak, Calvin Van Baren
Advisors: C.C. Chen, Niranjan Desai, Wubeshet Woldemariam
---
Maximizing Efficiency of the O'Hare Departure Terminal
Dylan Henson, Sarah Hernandez, Areej Saleh, Sydney Valiska, Candace Chandler
Advisor: Wubeshet Woldemariam
---
Annealing Furnace Rack Design
Jose Martinez, Joseph Madrigal
Advisors: Chenn Zhou, Nick Walla
---
O2 Enriched Combustion in Reheat Furnace
Emily Higley, John Rosser, Nathaniel Doan
Advisors: Chenn Zhou, Armin Salean
---
Smart Ladle
Zhengyuan Yang
Advisor: Chenn Zhou
---
Design of High Strength Solidification Structure of Carbon Steel in Continuous Casting
Mingqian Wang
Advisor: Chenn Zhou
---
NASA Human Exploration Rover Challenge 2021 – Telemetry
Jack Downs, Ethan O'Riley
Advisors: Harvey Abramowitz, Don Gray
---
FSAE Suspension Design & Structural Design
Michael Szumlas, Luke Wadkins, Dakota Sampson, Nisrin Issa
Advisor: Masoud Mojtahed
---
Improving Public Access at Indiana Dunes National Park
Anthony Iacopelli, Enrique Serna
Advisors: Harvey Abramowitz, Paul Labovitz
---
Development of Immersive Simulation for Measuring Cognitive Workload with Physiological Data
Isaiah Huppenthal
Advisor: Colin Elkin
---
An Investigation of Electric Vehicle Motors Design
Christian Campos, Angelica Longoria-Zellers
Advisor: Constantin Apostoaia
---
Mitigation of Jamming Attacks Using Signal Feature-Based Machine Learning with Applications to Unmanned Aerial Vehicles
Joshua Price, Jered Pawlak, Matthew Wright
Advisors: Khair Al Shamaileh, Quamar Niyaz
---
Height & Flatness Measurements Using Structured Light Systems
Alejandro Alvarez, Jalin Shavers, Alex Phys
Advisor: Li-Zhe Tan
---
Grid-Tie Photovotaic System with Scaled Design and Cyber Data Collection
Regan Sink, Christian Ramirez
Advisor: Li-Zhe Tan
---
Cyber Physical System Design & Implementation for Vision Based Robotics
Brandon Haczynski, Mike Lindeman, Tyler Soffa
Advisors: Li-Zhe Tan, Quamar Niyaz
---
Visualization-Based Asthma Learning Tutorial on Smart Phone
Eddie Bejar, Eliasart Rodriguez, Abdullah Abdelghani
Advisors: Vijay Devabhaktuni; Lucy Yang
---
Visualization-Based Cybersecurity Tutorial in C++
DeAndre Lynch, Miguel Palacios
Advisors: Lucy Yang; Quamar Niyaz
---
EEG-based Assistive Robotic Manipulator Using Deep-Learning Techniques
Andrew Kane, Brennan Shank
Advisor: Li-Zhe Tan
---
Designing of a Barrier to Protect Public Safety at a Pier
Samuel Covert, Dylan Hayes, Mary Helton
Advisors: Shengyong Zhang, Ed Shinn
---
Effective of Masks
Pietro Coso, Max Correa
Advisor: Yun (Tom) Liu
---
Modeling and Analysis of Gravitational Vortex and Turbine Systems
Atindriya Barai
Advisor: Xiuling Wang
---
UV Disinfection Indoor Space
Jesse Fu, Dianzhi Meng, Chang Su
Advisors: Chenn Zhou, Xiuling Wang, Armin Salean
---
Solar Irradiation at High Altitudes
Michael Jerde, John McKee, Austin Wattles
Advisor: Yun (Tom) Liu
---
Concrete Canoe
Khadijah Alshakhal, Trina Cook, Bryce Gawronski, Oscar Martinez, Rebecca Matthys, Matt Mourillon, Daniel Schreiner, Jessica Valdez
Advisors: C.C. Chen, Niranjan Desai, Wubeshet Woldemariam
---
Designing a Barrier to Protect Public Safety at a Pier
Aaron Lee, Karen Laboy, James Stemper, Jacob Hafer
Advisor: Shengyong Zhang
---
NASA Human Exploration Rover Challenge 2021
Violet Urban, Zaid Saleh, Ross Smith
Advisor: Harvey Abramowitz
---
Universal Star Wheel for Morrison Container Handling Solutions
Kathryn Bryzgalski, Jonathan Flores
Advisors: Masoud Mojtahed, Melissa Crawford
Universal Driver Joint for Morrison Container Handling Solutions
Matt Michel, Samuel Ophoff, Tim Petroluokis
Advisors: Harvey Abramowitz, Jim Higley
---
SAE Baja
Zachary Pinkston, Trevor Overloop, Nickolas Nykiel
Advisors: Harvey Abramowitz, Rick Rickerson
---
FSAE Power Train Design
Will Knapp, James Kowaski
Advisor: Masoud Mojtahed
---
Solar Car
Andrew Norvil, Casper Rusin, Andrew Riddle, Hieu Nguyen, Jonathan Nourie, Christian Simmons
Advisor: Hansung Kim
---
Lean Machine (Structural)
Angela Perez, Freddy Romo, Cameron Zandstra, Jake Wiggins
Advisors: Shengyong Zhang, Dale Wiersbe
---
Lean Machine (Electrical)
Jeffrey Osmulski, Moises Picazzo, Mark Frost, Ridwan Rahman
Advisors: Shengyong Zhang, Dale Wiersbe, Constantin Apostoaia
---
Mitigation of GPS Spoofing Attacks Using Machine Learning with Applications to Unmanned Aerial Vehicles
Amjad Al Shamaileh, Guillermo Hernandez, Christian Medrano
Advisors: Khair Al Shamaileh, Quamar Niyaz