Days Of Discovery – Keynote Speaker John J. Durocher
April 1, 2021 @ 9:00 am

-

10:00 am
How can you promote your own healthy living? John J. Durocher, PNW's Nils K. Nelson endowed associate professor of health studies, addresses this in his keynote speech.
Lifestyle Strategies to Power Onward
In today's high-paced world it can be easy to overlook, or to not prioritize, proactive approaches to health. Professional health organizations such as the American Heart Association and the American College of Sports Medicine (ACSM) report that adults should get at least 150 minutes of moderate-intensity aerobic activity per week, perform muscle-strengthening activities at least twice per week, sleep seven to nine hours per night, drink alcohol in moderation and regularly use relaxation techniques to mitigate stress.
The goals of this keynote include covering a snapshot of research results from four pillars of proactive health: 1) physical activity and exercise 2) nutrition 3) sleep and 4) stress reduction. Study topics include high-intensity cross-training, binge alcohol consumption, sleep deprivation and mindfulness meditation. The keynote will conclude with take-home points to help promote healthy living behaviors across your lifespan.
About The Speaker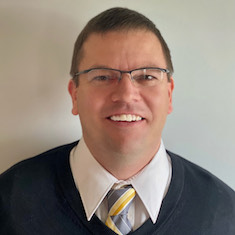 John J. Durocher joined Purdue University Northwest in the Fall of 2020 as Nils K. Nelson Associate Professor of Health Studies. Prior to coming to Purdue Northwest, Dr. Durocher was an Associate Professor of Biological Sciences at Michigan Technological University.
Durocher's research focuses on Exercise, Autonomic, and Integrative Physiology. He has numerous publications and has been funded by several agencies, including the National Institutes of Health.
Currently funded projects are focusing on how meditation and different types of exercise effect blood pressure, sympathetic nerve activity, arterial stiffness and anxiety.
Durocher teaches health studies courses including Advanced Human Physiology, Exercise Physiology, Stress Management, and Sports Health.
Learn More About Days of Discovery
EXPLORE YU OUYANG'S KEYNOTE TALK
To request a disability-related accommodation, please contact the Office of Institutional Equity at oie@pnw.edu or (219) 989-2163 five days prior to the event.