Essay Writing Contest – "What The Eyes Don't See"
March 28, 2022 @ 12:00 pm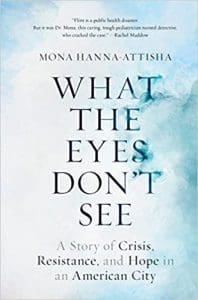 PNW's One Book, One University book, "What the Eyes Don't See," presents readers with a paradox: We live in the Great Lakes region surrounded by bountiful freshwater supplies-20% of the world's surface freshwater. Yet, our region, has faced serious freshwater challenges, from the Flint Water Crisis to many lesser known local problems resulting from problems of pollution, contamination, infrastructure, affordability, and climate change.
Compose a brief essay summarizing the paradox noted above. Then, craft an argument for the best solution(s) to secure access to clean, freshwater for all people in the Great Lakes region. Essays should be between 500-750 words (not including any works cited) and must be submitted via our online submission portal.
The portal will open on March 1, 2022 and close on Monday, March 28 at noon. The Contest is open to all PNW students! The winner will be announced on April 7, 2022. The author will present the prize and Apple iPad to the student winner.
For question please email Professor Richard Rupp at rrupp@pnw.edu
To request a disability-related accommodation, please contact the Office of Institutional Equity at oie@pnw.edu or (219) 989-2163 five days prior to the event.