Intramural "Intra Mural" Art Contest Deadline
Submit your drawing expressing "life during COVID" as a PNW student or employee. The winner will be allowed to paint their picture on the running track wall with the past Intramural "Intra mural" winners.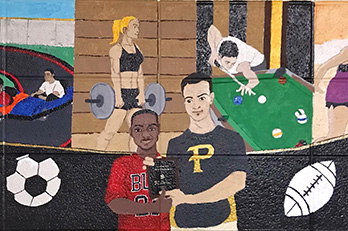 As we all navigate through life during these difficult and uncharted times, one way to release that anxiety or express your feelings or your views is with art. What a great way to leave your legacy behind at PNW and to capture this historic time in our world.
Contest Theme
"Life during COVD-19 as a PNW Student or Employee"
You can draw:
A picture of your view out your window
What it's like working or doing school work from home
If you were graduating this semester how it would have looked walking across the stage or hitting the game-winning home run
These are all just examples. You can come up with your idea!
Contest Rules
Entry deadline: April 13
(All photos of drawings must be submitted on or before April 13)
Draw a picture on paper or poster board. It can be done in pencil, crayon, marker or even painted.
Once its completed, take a picture of your submission and email it to dudzik@pnw.edu for judging. Please include a brief write-up explaining your picture.
This event is open to all PNW students and employees.
Have questions? Email dudzik@pnw.edu.
To request a disability-related accommodation, please contact the Office of Equity, Diversity and Inclusion five days prior to the event at edi@pnw.edu, 219-989-2163 (Hammond Campus) or 219-785-5545 (Westville Campus).