Looking Local: East Chicago's Latina/o Histories
October 1, 2021 @ 10:00 am

-

11:00 am
This two-part event explores the rich history of Latinas and Latinos in East Chicago, Indiana.
The first part will feature speaker Emiliano Aguilar, a Ph.D. candidate in History at Northwestern University and graduate of PNW. It will familiarize students with various kinds of primary sources, such as City Council Meeting Minutes, newspapers and interview transcripts. The workshop will teach students how a historian interrogates a source and the limitations of these sources. The talk will take place on the Hammond campus in GYTE 103. 
The second part will present a brief history of Latinas and Latinos in East Chicago, from their arrival until the Great Depression.
About Emiliano Aguilar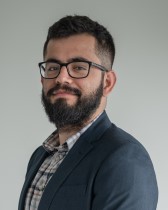 A native to East Chicago, Indiana, he attended Wabash College in Crawfordsville, IN, and majored in English and History. After completing his undergraduate degree, Emiliano attended Purdue University Northwest and earned his M.A. in History.
Emiliano's dissertation, "Building a Latino Machine," focuses on how the ethnic Mexican and Puerto Rican community of East Chicago, Indiana navigated corrupt machine politics to pursue their inclusion into the city. The narrative will trace the transition of Latinos from cogs in the political machine to eventually becoming the machine itself. During this transition, these communities engaged in unethical political behavior, including kickbacks, ghost payrolls, patronage politics, and vote tampering. Journalists across the United States framed East Chicago in the 1970s as "the last political machine in America."
His work has been featured in Belt Magazine, Immigration and Ethnic History Society's Blog, and Indiana Historical Society Blog. He has spoken about his work and Latinx History in the Midwest on PATV Channel 18 and Valparaiso University's Welcome Project. Look for his work in the forthcoming Latinx Placemaking in the Midwest: Building Sustainable Worlds (under contract with the University of Illinois Press) and Dispatches from the Rust Belt: Volume III, The Best of Belt Magazine 2020.
Outside of his research, Emiliano is an avid reader of science fiction, fantasy, and graphic novels. Emiliano's hobbies include homebrewing and tabletop gaming.
To request a disability-related accommodation, please contact the Office of Institutional Equity at oie@pnw.edu or (219) 989-2163 five days prior to the event.