Podcast Party – This Idea Will Save the World
March 21, 2022 @ 4:00 pm

-

5:30 pm
The Marie Forleo Podcast – This Idea Will Save the World – Kate Raworth on 'Doughnut Economics'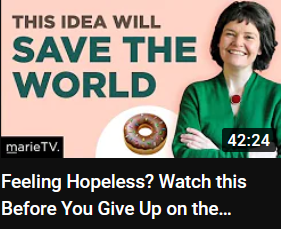 This renegade economist just redrew the picture of economic success — and it's saving the planet. Kate Raworth's internationally best-selling book, "Doughnut Economics," has influenced audiences from the UN General Assembly to Pope Francis, to the Extinction Rebellion. But don't let the word "economics" scare you away. Doughnut economics is simple, profound and can start at home. For hundreds of years western economics has touted "growth equals progress!" That assumption isn't just wrong — it's dangerous. The doughnut puts a new goal at the center. An economic system that focuses on human thriving without depleting or destroying the earth that sustains us.
After the podcast, we will have a systems thinking activity.
Snacks will be provided by the PNW Food Systems Initiatives.
Please bring your drink in a reusable bottle for a chance to win!
Location
Synchronous Zoom and In-Person (Professional Selling Lab: HTMB 183—Hammond Campus)
If you have any further questions! Feel free to email us for more info at sustainpnw@pnw.edu or check out our page at Sustainable Purdue University Northwest
To request a disability-related accommodation, please contact the Office of Institutional Equity at oie@pnw.edu or (219) 989-2163 five days prior to the event.