PNW Face Covering Protocol for On-Campus Community Members
May 14, 2020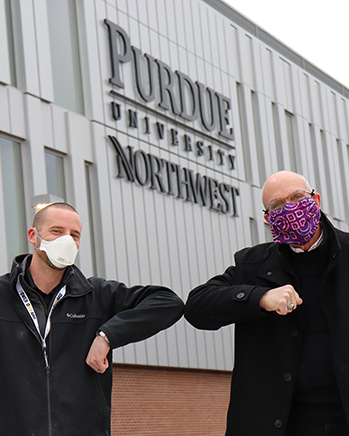 This update communicates face-covering protocol for PNW students, faculty and staff who must be on campus.
Until further guidance is received, a face covering should be used as described below. An account has been established for the purchase of COVID19 personal-protection equipment. Please contact your department business manager for details.
PNW Face-Covering Protocol
When you are in a building, hallway, classroom, laboratory, washroom, common area, you must wear a face covering.
If you are faculty or staff member, and in your own office, you do not have to wear a face covering. When you leave your office and are in the hallway, your face covering must be on. When you are visiting another Purdue Northwest office, you must wear a face covering.
If you are outdoors, you do not have to wear a face covering, but social distancing still applies.
If you are at an outdoor event, with multiple participants, you must wear your face covering.
Sincerely,
Brian Miller
Director of Public Safety
Published May 14, 2020
Updated June 23, 2020
Face-Covering Best Practices
The CDC recommends wearing cloth face coverings in public settings where other social distancing measures are difficult to maintain (e.g., grocery stores and pharmacies) especially in areas of significant community-based transmission.
Choosing Your Face Covering
A multi-ply, tightly woven cotton cloth or multi-ply disposable face covering is recommended.
Your face covering should allow for breathing without restriction
It should fit snugly but comfortably against the side of the face. The face covering should fit snugly around the mouth and nose. If the mask has a metal wire, it should be fitted snugly to the bridge of the nose.
Your face covering should be secured with ties or ear loops.
Face coverings must not have exhalation valves (with the exception of medical personnel and Emergency Responders).
Using Your Face Covering
Before putting on a face covering, clean hands with alcohol-based hand rub or soap and water.
Avoid touching the face covering while using it. If you do touch the face covering, wash your hands with soap and water or alcohol-based hand rub.
Your Face covering should be discarded or washed after every use. Reusable face coverings can be laundered and machine dried without damage or change to shape.
It should not be worn damp or when wet from spit or mucus.
To remove the face covering: remove it from behind, do not touch the front of the face covering.
The wearer should immediately wash their hands with soap and water for 20 seconds after removing the face covering.