Faculty and Staff Return to Campus Checklist
July 29, 2020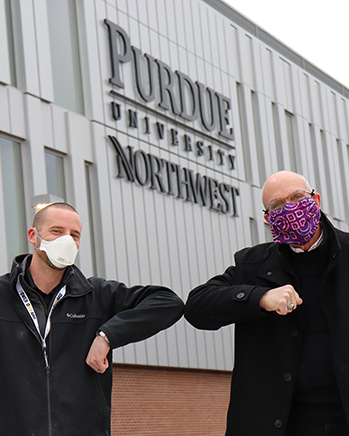 As PNW prepares for a Safe Return to Campus in Fall 2020, see the steps you can take for a smooth, safe start with our return to campus checklist for faculty and staff.
Steps to Take
Have you spoken with your Supervisor on when and how you should return to campus? Student-facing services will have an on campus presence during business hours starting August 10. Please refer to the Return-to-Work Guidelines.
In many areas, it will be most appropriate to continue working remotely. If you have not yet spoken to your supervisor about the expectations for remote work, please do so. Employees working remotely should complete the Remote Work Guidelines Acknowledgement and submit it to your supervisor. Resources are available for remote work and supervisors are encouraged to review the "Managing a Remote Work Team" suggestions.
If you are working remotely full- or part-time and have taken university property to your home, please work with your supervisor to complete the University Property Loan Agreement, found in the Employment FAQ section of the COVID-19 Staff Guide or the COVID-19 Faculty Guide.
Do you have a face covering? Please check with your supervisor to pick up your PNW face coverings. Refer to the PNW Face Coverings Protocol for reminders about the requirements for wearing face coverings on the PNW campuses.
Have your cleaning supplies been delivered to your office or have you worked with your Supervisor on how to get cleaning supplies? Please refer to the Procurement COVID-19 supplies memo and order form to order cleaning supplies for your area.
Faculty, when you get to your classroom you will find that cleaning supplies have been delivered. You will also find self-clean reminder signage and the classroom capacity signage in the rooms.
Have you completed the PNW COVID-19 Training in Success Factors?
Have you downloaded the PNW Mobile App?
Have you completed the PNW Daily Self-Screen located in the PNW Mobile App or directly at this link?
Have you looked at the downloadable, printable PNW COVID-19 signage to determine if your office area needs any signage?