Get to Know Dr. Conroy
May 4, 2020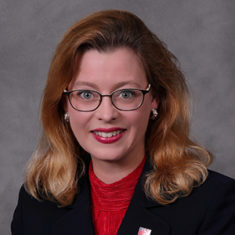 When asked why she likes philosophy, Dr. Renee Conroy said, "I love the creativity. I find that philosophy is, although a very rational discipline, an exceptionally creative one; and I relish the combination of intellectual rigor and originality."
Embracing the creativity of a field in which rational discipline takes centerstage is just one of the many things that makes Dr. Conroy a unique and valued instructor for the Department of History and Philosophy.
Background
Dr. Conroy grew up in the Pacific Northwest and is a self-professed "Seattleite." Growing up in the mountains and rain, she spent her formative years, and most of her adult life, in Washington state. She obtained two undergraduate degrees—one in dance and one in philosophy—from the University of Washington.
While still an undergraduate, Dr. Conroy worked professionally in dance, teaching a variety of dance forms and performing with national musical theater companies. She trained in ballet, tap, jazz, modern, and musical theater, and performed with nationally recognized companies that specialized in classic modern dance and contemporary theatrical jazz. Her passion for dance soon met her passion for philosophy, and this led her back to the University of Washington, where she earned both a masters' degree and a doctorate in philosophy.
"If you get a classroom of students, who for whatever reason are active and there with you, that's a special kind of gratification."
Joining PNW
Dr. Conroy joined Purdue Northwest eleven years ago. She was inspired to pursue academia professionally by "books, coffee and conversation."
Within the Department of History and Philosophy, Dr. Conroy has taught a variety of classes, such as Introduction to Philosophy and Introduction to Ethics, along with more advanced philosophy courses including History of Modern Philosophy. Dr. Conroy has also taught specialty subjects in her research areas, giving emphasis to issues in aesthetics and metaphysics.
While she enjoys the challenge and creativity of planning new courses, Dr. Conroy loves when the students in her classes take a vocal role and truly engage in the material, saying, "If you get a classroom of students, who for whatever reason are active and there with you, that's a special kind of gratification." She has created classes that combine many disciplines, including unique topics courses such as Art and Emotion, Philosophy and Science Fiction, Philosophy and the Movies, and Fiction and Metaphysics. And if that wasn't enough, she has done seminar classes with students on topics like horror films and video games.
She finds herself always learning from her colleagues as well as her students. She has never felt like teaching is the typical "9 to 5" job, and she strives to inspire curiosity in her students. Dr. Conroy wants her students to feel capable and confident while also acknowledging that there is a lot that we don't know, and that such a lack of knowledge isn't a bad thing after all.
Time in London
With classes covering a broad range of philosophical topics, and a love for dance and performing arts, it should come as no surprise that Dr. Conroy has had some unique experiences. She went to London in 2015 as a Fulbright scholar, teaching philosophy of dance at the University of Roehampton.
Describing her time in London as "stellar," Dr. Conroy was also the keynote speaker at a conference on dance and improvisation at the University of Leeds and a conference on neo-liberalism and the performing arts at the University of Coventry. Her time in London reinforced her commitment to interdisciplinary work, and she was given many opportunities that dovetailed with her professional work.
In her spare time, Dr. Conroy is a theater person, enjoying live performances in all artistic dance traditions, as well as range of musical styles and straight plays. She is also an aspiring gardener and hosts dinner parties where she can create a place for social interaction. In addition, she reads, travels, and enjoys downhill snow skiing with her husband.
Dr. Conroy keeps herself busy with her classes and love of the arts. Soon though, she will be even busier, as she prepares to take a sabbatical to focus on writing a book. The book will be an attempt to work through foundational issues in the academic field of philosophy of dance and to improve conversation about those issues between philosophers and practicing artists.
Dr. Conroy puts all of herself into her work and her mission of combining philosophy with art. She doesn't see being a college professor as a career; rather, she sees it as a lifestyle choice. With this in mind, we're not only excited for her forthcoming book, we're also excited to see her continue to use her passions to inspire and educate students.