Transit Triangle Bus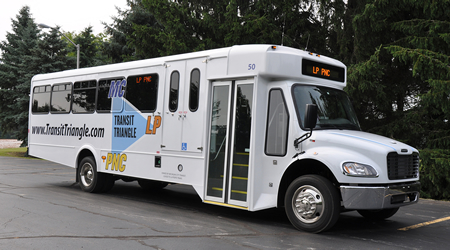 The Transit Triangle bus service provides convenient commuter transportation between Michigan City Transit, La Porte TransPorte and Purdue University Northwest.
Free to riders, it is the quick, economical connection between Michigan City, La Porte and PNW.
Two Routes
9 Round Trips, Monday-Friday 
Black Line: Michigan City-> City of La Porte-> Purdue Northwest Campus (DSAC)
ADA Services
All buses are fully ADA-accessible, with lifts/ramps for easy boarding.
For more information about the Transit Triangle, please visit their website.