Abby Sanders
Vice President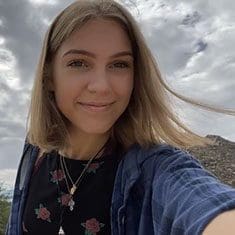 Introduction
My name is Abby Sanders, I graduated from Lake Central High School. Currently, I am in my third year as a Social Work major with a minor in Psychology.
Last year was my first year on HSAB as the Events Chair, so I am very excited to be more involved as the Vice President this year! The Honors College has a great place in my heart already and I love getting involved. My favorite about the Honors College is meeting new people at events or even just in the Honors Den.
Outside of the Honors College, I will be an RA for housing, I am on the CHESS student advisory board, and I take pictures for the Chick-fil-A social media in Merrillville. I have found a great love for my major and minor, so I spend a great amount of my time focusing on school work.
In my free time I love spending time with friends and family, reading books, and practicing self-care. I can't wait for this upcoming year and I love meeting new people. Feel free to say hello and introduce yourself when you see me on campus, I can't wait to meet you!