Trevon Brown
Events Committee Vice Chair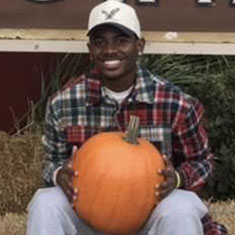 Introduction
My name is Trevon Brown, I graduated from Amos Alonzo Stagg High School. Currently, I am a sophomore majoring in Electrical Engineering. This is my first year being a part of the HSAB, running as the Events Vice Chair, with Hannah Ingraham and Cassie Vickers as the Events Chair, and I am 100% excited to get started!
Being a part of the Honors College has been a great experience for me, and the involvement I've had so far has been rewarding. In the coming year of 23-24, you will be seeing me a lot more in the Honors College Program.
Usually outside of PNW, I live back home in Chicago and work at FairPlay Foods in Hickory Hills, Illinois. I'm also a student leader for InterVarsity Christian Fellowship Club at PNW if you want to find me elsewhere on campus!
Other than school and work, I love to read, journal, go to church, and hang with family/friends. I do live on campus during the school year so if you ever want to say hi or ask questions, I am always available!