Why Honors College?
The Honors College at Purdue University Northwest enhances the learning experiences of highly motivated and academically exceptional students.
Honors College students engage in advanced coursework, experiential learning, substantive research, and collaboration with the University's most outstanding faculty. These opportunities foster academic excellence, leadership skills, social and civic responsibility and other virtues required of outstanding citizens and innovators.
Benefits
A Caring Community that Leads to Success
Graduating from Two PNW Colleges: Your College of Major and the Honors College
Student Leadership Experience
Peer Mentoring Program
Honors-Only Den and Study Space
One-on-One Research with PNW Faculty
Volunteering and Civic Engagement Opportunities
Exciting Student Events
Specialized Personal Academic Advising
First-Day Priority Registration for Classes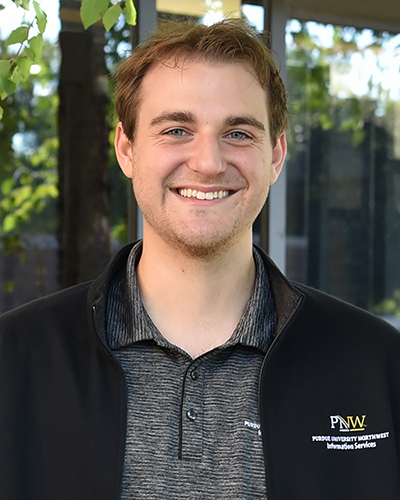 The Honors College has given me an incredible opportunity to be more involved in the community and has allowed me to go to a bunch of great places.
What Sets The Honors College Apart?
The Honors College curriculum works within your existing plan of study to allow you to graduate in four years.
The Honors College provides multidisciplinary learning opportunities that engage students from all majors.
Honors College courses are not more difficult, but instead offer innovative approaches. Emphasis is on critical thinking and conceptual, discussion-based learning.
Honors College students represent diverse backgrounds, perspectives and experiences within the larger PNW community and they challenge themselves to succeed academically, personally and in their community.
The Honors College is more than just a resume builder. Students enjoy unique experiences through research, leadership, mentoring and community outreach—experiences that make them outstanding candidates for graduate school and the workforce.
Successful Completion
Successful completion of the Honors College curriculum awards you a gold seal on your diploma and a notation on your official transcript.
Graduates come to the Honors College to extend their minds and challenge themselves to go out into the world and do great things.
Our students have gone on to graduate study at such places as the University of Chicago, the University of Notre Dame, Northwestern University, Purdue University and the University of Illinois at Chicago.
Honors students have held for-credit internships at Walt Disney World, ArcelorMittal, John Deere, Porter Regional Hospital, Indiana Department of Transportation and Michelin, to name just a few.