Employee Learning and Development
Human Resources offers a variety of opportunities to enhance your professional and personal growth.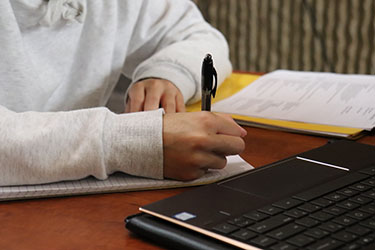 Managing a Remote Team
Managers in remote work environments have to find new and more effective ways to ensure accountability, productivity and a sense of belonging.
Development Opportunities
Professional development opportunities are provided to all PNW employees via skill-building workshops offered throughout the year. These opportunities allow our employees to learn and grow with their ever-changing work situations and enhance their individual and team productivity.
New Employee Orientation gives new hires an overview of PNW and information to help them navigate their first few months of employment. New hires can hear presenters from each division, giving them a deeper understanding of the university's direction and organizational structure.
The performance assessment information sessions for supervisors and employees are held in spring. These sessions guide supervisors and employees in preparing performance assessments using SuccessFactors.
See supporting documents on R:\Human Resources\Performance Management.
This learning tool lets you learn at your own pace. Choose from over 5,000 on-demand courses from LinkedIn Learning and watch on your schedule.
LinkedIn Learning provides the option to engage in focused instruction on a specific topic or select a Learning Path. Within a Learning Path, you'll receive several hours of content, giving you in-depth learning experiences around a desired skill.
Purdue University provides all Purdue University Campus employees an education benefit through Purdue University Global.
Supervisor Development
We enhance management and leadership capacity at PNW by offering various training programs that will prepare leaders at every level to communicate, engage, motivate, and lead effectively.
This training provides administrative supervisors with the knowledge, skills and resources needed to manage in six key areas: staff hiring, employee leaves, workers compensation, employee relations, performance management and employee recognition. In addition, we will review the laws and Purdue policies that apply to staff supervision.
The training focuses on providing administrative supervisors with the knowledge, skills and resources needed to manage difficult conversations in the workplace. In addition, supervisors will be provided with tips and techniques to address workplace conflict effectively.
Organizational Development
We support team growth and productivity by facilitating customized retreats and training workshops. Please contact us for more information.
Department Sponsored Training
Additional training opportunities are offered by departments across the university. Please contact the appropriate department for more information on each area.
Center for Faculty Excellence
The Center for Faculty Excellence inspires faculty to strive for excellence, offering opportunities and resources to faculty in all stages of their careers related to learning, discovery, engagement and professional growth.
Office of Instructional Technology
We provide faculty, staff and students with the resources necessary to use technology as a tool to achieve their educational goals.
Leadership Institute at Purdue Northwest
Our focus is on guiding our participants toward professional growth, leadership exposure and civic engagement through skill-building sessions.
Purdue Northwest Police
We offer a number of programs to educate the campus communities on crime-prevention strategies. Most are free of charge.
Web-Based Certifications
Your position at PNW may require you to hold certain certifications that must be re-certified annually.