New @ PNW (New Employee Onboarding)
Welcome to Purdue University Northwest! This page is for new benefit-eligible staff, their supervisors and department onboarding contacts.
This site explains Purdue Northwest's approach to onboarding new benefit eligible staff.  New hires can access their onboarding training program from this page and Supervisors of new hires can access their training for onboarding a new employee from this page.

The New Employee Experience Roadmap
The onboarding program includes six phases that provide experiences for new staff members at critical points in time during their first year. View the roadmap image and the more detailed descriptions below to learn more about the intent and goals of each phase.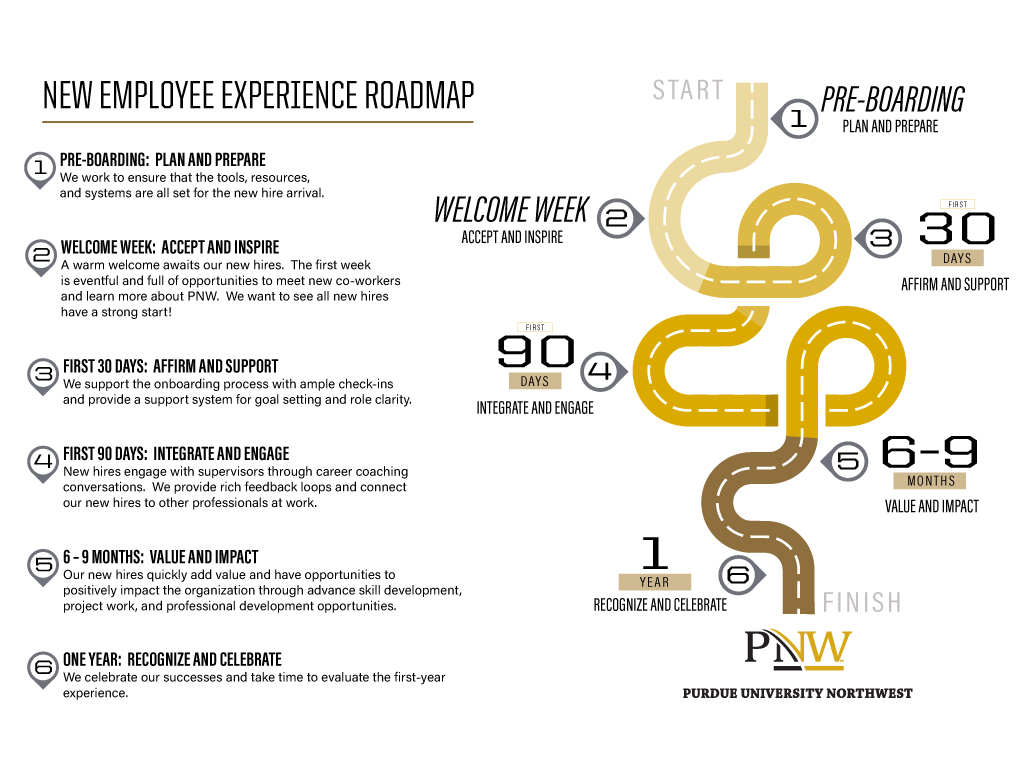 Pre-boarding: Plan and Prepare
Stage 1 of the roadmap begins prior to hire date.  The intent is to support the early success of the new hire by ensuring that the appropriate tools, resources and systems are all set for their arrival.  Much of the work done during this phase is completed by Human Resources and the hiring supervisor.
Welcome Week: Accept and Inspire
The purpose of stage 2 of the roadmap is to warmly welcome the new hire to Purdue Northwest. Key connections with coworkers are established and introductions to the mission, vision and culture of PNW is made to provide guidance on getting the new hire started on the right track.
First 30 Days: Affirm and Support
Stage 3 of the roadmap focuses on tasks that advocate for the new hire's growth and development. Onboarding progress is assessed and check ins are made to ensure support systems are in place.  Clarify is provided around roles and responsibilities and expectations are established and performance goals set.  Work continues on fostering key relationships for the new hire with others at the University.
First 90 Days: Integrate and Engage
Stage 4 strives to build competence in the job and provide frequent opportunities for open forum discussion. The new hire is supplied with rich feedback loops via mentoring, supervisor coaching and connection to professional cohorts and associations.
6-9 Months: Value and Impact
Stage 5 seeks to advance and accelerate skill development through involvement in key project and departmental growth opportunities. Areas for impact are identified and new hire is equipped to excel in this arena.  Involving the new hire in the University community at large and broadening their scope of experience beyond their respective departments is a focus during this time frame.
One Year: Recognize and Celebrate
Stage 6 is celebratory!  We evaluate the new hire's first-year experiences, assess performance and pursue further development of individual goals. We celebrate personal wins, team contributions and recognize the new hire's role in advancing the mission.
As a new staff employee, you will be assigned a self-paced onboarding training program to complete.  You will be able to access the training on your hire date once you have contacted Information Services and have received your Career Account Username, password and boilerkey access.
Most of your onboarding training will be accessible via the Learning Management System in SuccessFactors.
As a supervisor of a new staff employee, there are many things to do to get prepared for your new hire and assist your new hire with getting acclimated and oriented to PNW and their new position.  We have prepared a training program just for you!  The supervisor program for onboarding a new hire was built to mirror your new employee's six-stage onboarding roadmap.  Let's begin your journey!
Human Resources completes several tasks prior to an employee's start date and on their first day. We want the department to be familiar with what HR does to help you prepare for your new hire. Anything not on the list below is the responsibility of the department to coordinate. For benefit eligible STAFF new hires, the following are the tasks that HR performs:
Pre Hire Date

Prepares and Sends Offer Letter
Initiates the Request for Privileges
Initiates Background Check and MVR Check
Notifies various departments of New Hire (IT, Mailroom, CSSAC, MAPSAC, etc.)
Sends hiring supervisor a link to the supervisor training program for onboarding a new hire
Prepares Welcome Message that is revealed to New Hire the first time they log into SuccessFactors
Enrolls new hire in the New @ PNW onboarding training program
Schedules new hire for their I-9 verification appointment
Day One
HR Meets with the new hire on the morning of hire date

Ensures New Hire Paperwork is completed
Completes I-9 Verification
Assists employee with Parking application
Provides Instructions for securing

Computer Log In Credentials
BoilerKey
PNW ID Card
Office Keys
Hanging Parking Permit

HR Benefits contacts new hire via PNW email to schedule benefit enrollment/orientation meeting
Within the First Couple Months of Hire
HR invites the new employee to New Employee Orientation
HR invites the new employee to New Supervisor Training (if the new hire supervises others)