Services
We provide support and oversight for a range of institutional projects, including strategic planning and surveys.
Planning
We supports the university's strategic and integrated campus planning processes through the development of targets, metrics, data collection, and analysis as related to university effectiveness measures.
Examples
College of Business Strategic Plan 2015-2020
Peer Institutions
Purdue University Northwest adopted a group of peer institutions to use when comparative data are desired for research and planning purposes.
Survey Research
We support institutional assessment through a variety of data-gathering avenues, including survey research. In addition to regular administration of the National Survey of Student Engagement (NSSE), the Beginning College Survey of Student Engagement (BCSSE), and the Faculty Survey of Student Engagement (FSSE), the assessment team works collaboratively with other units to create, administer, and analyze data collected from targeted surveys such as:
Human resources: Employee satisfaction surveys
Alumni Affairs: Program, college, and university-level surveys of alumni
Information Services: User satisfaction/impact surveys
Student Affairs: Program opinion surveys
Library: User-satisfaction surveys
Assessment
We provide university-wide support for the assessment of student learning at the course, program and institutional levels.
Activities include development of measures of student learning outcomes, support for the annual program review process, and assessment of general education and experiential learning.
University-Level Learning Outcomes
Upon completion of an academic program at Purdue Northwest, students will demonstrate
Increasingly Specialized Knowledge of Human Cultures and the Physical and Natural World,
Intellectual and Practical Skills,
Personal and Social Responsibility, and
Integrative and Applied Learning
Each academic program should include these outcomes, at a level of attainment appropriate for the degree level (e.g., doctoral, master's, baccalaureate, certificate), in their articulation of program-level student learning outcomes. Programs may rely on the assessment of the university learning outcomes.
Program Learning Outcomes
Each academic program has created appropriate student learning outcomes, each with associated assessments and rubrics. Assessment plans are also in place for General Education, First-Year Experience, and Experiential Learning.
Each program-level outcome can be mapped to one or more of the university-level outcomes. The University has chosen the Taskstream by Watermark platform in which departmental faculty record assessment results and make plans for continuous improvement. It includes data analytics and interactive reports, and supports scalable benchmarking and inter-rater reliability.
Program Review
Purdue Northwest is in the process of creating and implementing a Program Review Process which will highlight all programs. As the process is developed, additional materials will become available.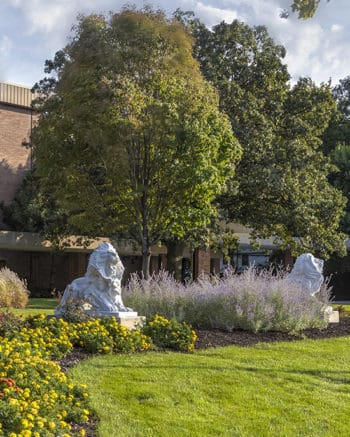 Accreditation and Assessment
Accreditation and assessment are key components to Purdue University Northwest's institutional effectiveness