International Students and Homecoming: How You Can Get Involved, and Why You Should
January 31, 2020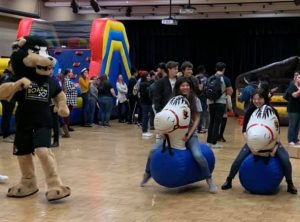 PNW celebrates homecoming month from January to February, 2020. Events and activities are open to all PNW students, but for international students the meaning behind homecoming still might be missing. Hopefully the following article will help explain the "why" behind homecoming, and why it's an important time for international students to get involved.
What is Homecoming?
Homecoming is an annual American tradition commonly celebrated at U.S. high schools, colleges, and universities. Despite the more popular stereotypes, homecoming does not always center on a football game, followed by a dance. In fact, here at PNW, homecoming is a month filled with activities to celebrate your PNW PRIDE (school spirit), network with alumni who graduated from PNW, support and give back to your institution and fellow students. PNW homecoming culminates in the "MANE" event with food, games, giveaways, and cheering on both our men's and women's basketball teams from the courtside Student Fan Experience Section!"
Other Homecoming terms, defined:
School spirit – More commonly known here as "PNW Pride," having school spirit means sharing a sense of pride, identity, and community associated with your university.
Alumni – Someone who has graduated from PNW. During Homecoming time, alumni come back "home" to visit their college campus, connect with college friends, faculty and staff, celebrate their PNW Pride (school spirit), and reflect on their academic and professional experiences. Many alumni donate their time as mentors to current students, or make monetary donations to support university programs and initiatives.
How you can get involved, and why you should:
Homecoming month at PNW, also known as the "ROARing 20's PNW Homecoming 2020" began this week on Monday with campus window decorating and canvas painting. It continues with homecoming carnivals on both campus held this week as well.
Other activities coming up include professional networking and training with alumni and industry leaders, a talent and lip sync contest called Mock Rock, Trivia Night (sponsored by the Office of Global Engagement, along with Honors College and Student Life), and then, the "MANE" event.
PNW Homecoming is an especially important opportunity for international students to experience an American tradition, and build a better bond with your campus community. Get into the spirit and celebrate your PNW Pride with fellow students, faculty, staff and alumni. These experiences, relationships, and memories that will last a lifetime.
If you have a homecoming-related question or reflection to share, please email: hewson@pnw.edu