Limited Return to Campus Begins July 6
June 26, 2020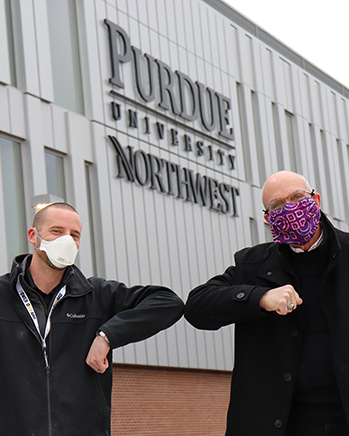 To PNW Faculty and Staff,
As we continue preparations to safely welcome students back to campus this fall, Purdue University Northwest senior administration has approved the recommendation of the Safe Return to Campus Task Force to move into the next phase of operations beginning July 6.
Please contact your supervisor to develop a schedule to determine whether or when you will return to campus.  If you receive supervisory approval, nonessential personnel may begin working on campus following certain guidelines.
These guidelines are designed to help us all work together to achieve the goals of de-densifying the campuses, mitigating risks by continuing to have as many people work remotely as possible, and encouraging all staff and faculty to follow safe health practices while on campus.
The Fitness Centers also are reopening July 13 with limited hours and activity. The phased re-opening of the Fitness Centers follows relevant guidance from the Centers for Disease Control as well as the state of Indiana. Some offerings will remain on-hold or remote for now, but Fitness Center staff look forward to safely offering services under the framework outlined at this link.
The following key measures are being implemented:
Face Coverings – Face coverings are required indoors except while in your private office. See the protocol for more details. PNW will provide two face coverings to each faculty member, staff member, and student.
Safety Training – Every staff and faculty member is required to complete a short training module that covers common health practices to help prevent the spread of COVID-19. The training module is available in Success Factors. (Please note: PNW employees are not required to complete the Purdue West Lafayette training that might currently be visible in your Success Factors home screen.)
Cleaning Supplies – Cleaning protocols are outlined in the Return to Work Guidelines.
Plexiglas – The university is installing Plexiglas in appropriate designated areas.
Signage – All offices should place proper signage so students and visitors understand the procedure for that office. Templates are provided on the website.
Guidance for Supervisors
Supervisors should work with their teams to determine which positions can continue to work effectively remotely, and which need to be on campus beginning July 6 as well as in early August and when students return to campus as the semester starts.
Departments may have to vary this amount to meet our students' needs over time. Social distancing must be maintained so that we can continue to work through implementing these changes and mitigate risk.
Please review the  Safe Return to Campus Website and if you have any questions, please contact Julie Wiejak at safereturn@pnw.edu. Continue to review the PNW COVID-19 website regularly for updates.
Lawrence Hamer and Julie Wiejak
Co-Chairs, Safe Return to Campus Task Force