Lionhearted Leaders: Yu Ouyang
April 10, 2023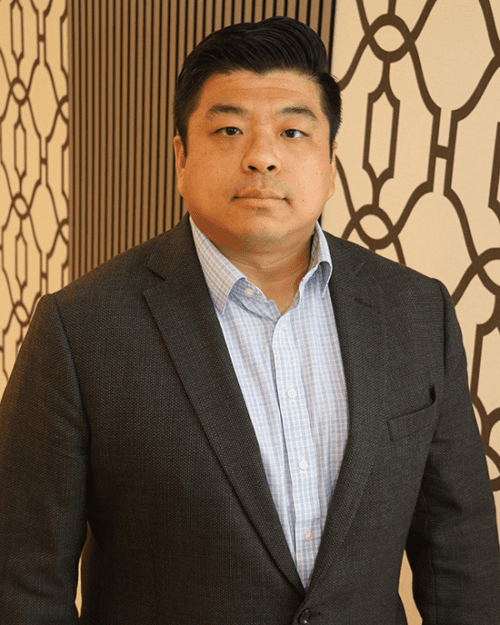 PNW's Lionhearted Leaders are faculty recognized for their exceptional work inside and outside the classroom.
Meet Yu Ouyang, professor of Political Science and a Lionhearted Leader in the College of History, Philosophy, Political Science and Economics.
---
Tell us about your teaching methods, philosophy and goals?
I vividly remember that one of the first classes I took in college was an Introduction to American Government course at a local community college. While I was not one of the more engaged students in that course, I was inspired by the professor's accounts of the American political process and could not wait until the next lecture. That, I believe, is one of the ultimate accomplishments of a teacher: inspiring student learning.
In the classroom, I believe that all students possess the capability and the capacity to learn; it is our jobs as educators to properly motivate students' desire to learn. Thus, I design my courses to not only challenge students intellectually, but also to further students' capacity to develop and to form cogent arguments. I am a proponent of active learning and the experiential process. I believe that students learn best when they actively participate in the process.
My teaching goals are simple. I want to help students to make sense of politics and the interactions and conflicts between key political actors, as well as to help prepare them for future careers. Ultimately, this helps all of us become informed, engaged, and active participants in our political system.
Explain more about your research in American Presidential Politics.
My primary research agenda is in fields of American Politics, focusing on the American presidency and presidential power. My PhD dissertation was on the unilateral presidency, i.e., when, why, and how presidents use unilateral directives, such as executive orders, to make public policies. More specifically, my primary questions involve assessing how the different types of unilateral directives allow presidents the greatest latitude when they decide to act unilaterally. How do unilateral actions relate to the public support for the institution of the presidency? How do unilateral directives impact the executive branch's relation with other political institutions, namely the legislative and the judicial?
In addition, other parts of my research agenda include works on presidential appointments and political rhetoric, respectively. In the area of presidential appointments, my research focuses primarily on how presidents utilize their appointment powers to manage and to direct the executive branch and federal bureaucracy to implement public policies. Among other questions, we assess the kinds of individuals presidents are likely to appoint to various positions with the executive branch and the impact of those appointments. In the area of presidential and political rhetoric, I am most interested in what political actors say and why.
One current book project examines presidential rhetoric in the context of economic sanctions and U.S. foreign policy. Despite the significant role that sanctions play in U.S. foreign policy, scholars generally agree that economic sanctions do not result in desired behavioral changes in the target states. To better understand this puzzle, my co-author and I examine what presidents say about sanction policies and how domestic and international conditions affect the nature of those rhetorics.
What do you like to do outside of work?
To relax and to have fun outside of work, I like to play video games, exercise, and read. Since childhood, I probably played a lot more video games than I should, but I find it enjoyable and a way to take my mind off school and work. I play a variety of genre, from sports games like NBA2K and Madden to simulation games like sim racing and flight simulators.
I also enjoy working out and exercising. A group of friends and I have a weekly basketball game, usually on a Friday evening. I also started lifting weights again, which is something I have not done in many years.
I still like to read for fun, even though I do a lot of reading for work. I generally avoid nonfiction works, since it feels a lot like the kinds of readings I do for research and work. Web novels are something I did not expect to enjoy, but I do. These are generally quick-reads, with shorter chapters and fast pacing of plots and character-developments. These can be addicting! I have stayed awake nearly entire nights because the stories are so enticing! For one book series I have read more than 5,000 chapters!