The 5.75 Online Pop-Up Shop Is Open One More Time!
February 7, 2022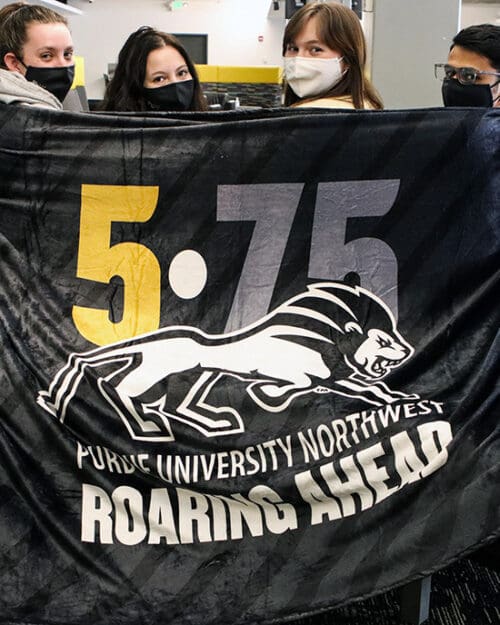 Dear Students, Faculty and Staff:
You've Roared Ahead through a time unlike any other. You can show off that spirit with exclusive Roaring Ahead 5.75 PNW swag!
Just imagine yourself underneath a cozy extra-large 5.75 blanket during your next streaming marathon, sipping a warm drink in a sizable mug, or sporting fashionable Leo earrings or custom PNW slip-on shoes on campus.
Sales of these limited-edition items help pay it forward for PNW students. Over $1,000 has already been raised to support scholarships!
Check out all the options in this final 5.75 Online Pop-up Shop. But don't wait too long! These unique items will not be sold anywhere else after the shop closes on Feb. 25.
Find out more about how we are celebrating the fifth anniversary of Purdue Northwest and the 75th anniversaries of our legacy institutions, as well as the many ways PNW is Roaring Ahead into the future, by visiting pnw.edu/roaring-ahead.
The 5-75 Purdue Northwest Anniversary Steering Committee